This handy guide has been updated for Crankworx Whistler 2017. Ready to giv'r?

Guest Author: Andrew Mitchell
Whistler was built to host a party and as the town has grown into one of the world's great mountain bike destinations Crankworx has emerged as the biggest party of all. This is Whistler's Wimbledon, Stanley Cup and Kentucky Derby rolled into one. Picture a giant three-day music festival that's 10 days long where all the rock stars ride bikes and hold nothing back before tens of thousands of superfans from around the globe. Jaws will drop. Eyes will bulge. Vocal chords will be strained, and it all goes down August 11-20, 2017.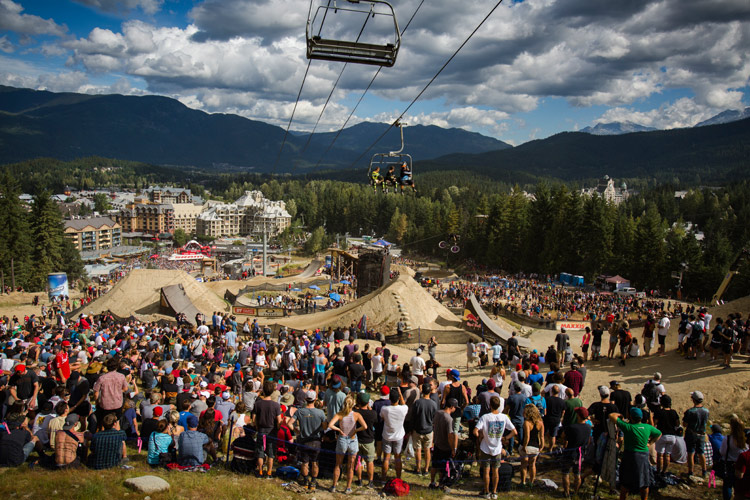 As a spectator, Crankworx is an incredible experience with dozens of events packed into the ten-day festival. But with so much happening it's easy to miss out on incredible stuff so here's a list of freeride festival do's and don'ts, a spectator guide from a guy who has been to every single Crankworx since year one:
DO … Get to the venues early, especially for events like the Ultimate Pump Track Challenge where the action takes place at ground level with limited space for spectators and mass spectator events like Red Bull Joyride. Be sure to make room for all the kids that come out to watch.
DON'T … Be THAT guy (or girl). The one who watches the action through a camera screen even though it's right there in front of you. All of the video goodness from Crankworx gets posted on half a dozen websites seemingly within minutes of each actual competition. You really don't need to bring a selfie stick and GoPro to every event, or hold up your camera and tablet while blocking views for spectators behind you, capturing inferior footage you'll probably never watch anyway.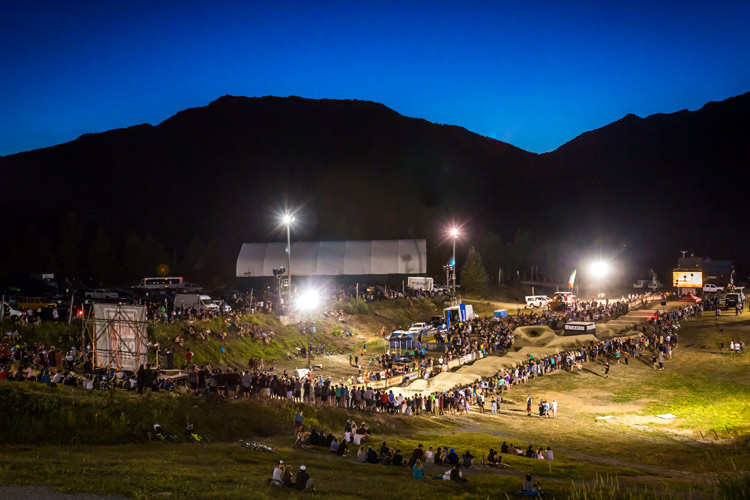 DO … Prepare for the weather and terrain. Check the forecast. If it's hot and sunny wear sunscreen, a hat and sunglasses, and bring along a full (refillable) water bottle. If it's wet and cold, dress for wet and cold. And ideally, be prepared for both because mountain weather can change quickly. If you're climbing around the lower part of the mountain for a race or a busy event like the Red Bull Joyride, flip flop sandals are a terrible choice. Also, it's not a bad idea to bring a bandana you can pull over your nose and mouth – it can get dusty out there.
DON'T … Bring beer and/or alcohol to the events. There is security around the Village, and every year police will force a few spectators to dump out dozens of ice cold beers before writing them up a hefty ticket. It's expensive and a complete waste of perfectly good suds. Check the individual event info as some of them have licensed areas and if in doubt it's a lot smarter to just post up on one Whistler's epic patios instead.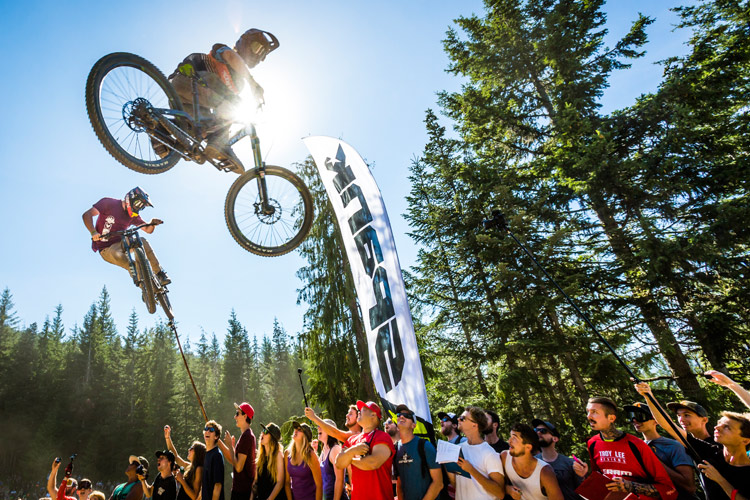 DO … Bring your bike(s). The Whistler Mountain Bike Park is open to the public during Crankworx with a few obvious exceptions (e.g. active race/competition courses) and the lift access at Creekside is a brilliant way to avoid the hustle of the Village. There are lots of great places to watch the race events on the mountain that are inaccessible by foot, so a bike is a front row ticket. Plus, if you're into cross-country and freeride Whistler offers over 200 km of trail options outside of the Bike Park with options to suit every level and ability. If you need a rental bike check this Insiders guide and be sure to book it early as it will be a mad busy week in the bike shops. Or, head over to the Demo site in Lot 2 and pick up a (free) rental for a couple of hours – just get there early to avoid the rush.
DON'T … Leave your bike unattended or unlocked, even for 'just 30 seconds'. Bike thieves know perfectly well that Crankworx Whistler is underway and some bikes these days are almost worth their weight in gold. If you see suspicious behaviour, report it.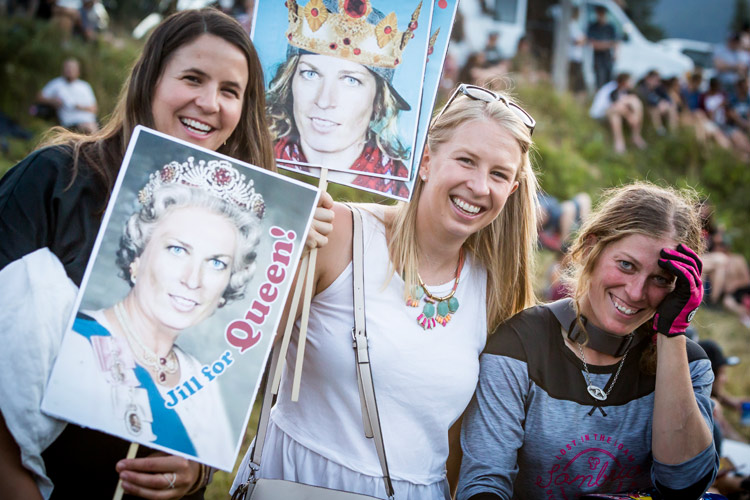 DO … Get well into it. This is all about having fun so bring along signs and noise makers. Wear a costume. Yell, cheer and whoop. Applaud liberally. Athletes can hear the crowds and will respond to that positive energy by going bigger and faster. Streakers are a regular occurrence at Crankworx, and sometimes you get a treat like a guy in a gorilla costume chasing a hundred people in banana costumes down the slopestyle course. If you decide to cheer on a race trailside (highly recommended), stay out of the way of the riders, respect the directions given by course marshals and avoid posting up outside corners or anywhere a rider might come loose from the trail. They're riding the knife edge between in and out of control and you'll come off second best if it goes the wrong way.
DON'T … Think for a minute that staying home and watching the events online is anything like being there. Crankworx is one of the best experiences of the year whether you're a racer, spectator or both. Nothing beats seeing these amazing feats of two-wheeled athleticism with your own eyes, and the atmosphere in the Village is electric all week long.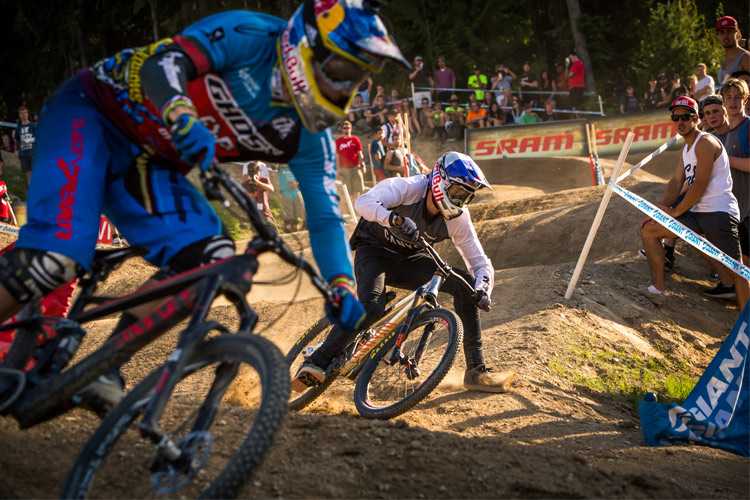 DON'T … Drive if you don't have to. There's free transit Saturday and Sunday of the festival, and most accommodation in the Village is within walking distance of the trails. Leaving right after Red Bull Joyride on the Sunday with everyone else is also not the smartest choice – consider staying an extra day or two and avoiding peak traffic (with the added bonus of more riding time).
DO … Participate if you can. There are lots of opportunities to ride and race at Crankworx, even if you're not a pro. There are amateur categories in most of the on-mountain events, there's the LIV A-Line Women's Only Session, which is very welcoming for women looking to up their game in the park (pre-registration is required). And there's amateur divisions for a lot of the races and events – it could be your time to shine.
DO…Bring the kids. There are a ton of Kidsworx events on the calendar, including run bike races for kids as young as two, and junior editions of DH races including the Fox Air DH. You may cry when you see how crazy talented Whistler children are on bikes, but at least they will be tears of joy for the future.
DON'T … Miss out on the evening cultural events, like the Dirt Diaries on Thursday August 15, 2017 and the Deep Summer Photo Challenge on Wednesday August 16, 2017. New this year is the Women in Action – Action Sports Forum with big wave surfer Maya Gabeira and freestyle ski star Kaya Turski in the house discussing their rise to the top. There are parties, movie showings and happenings almost every night, so keep your ear to the ground and your Twitter feed set to #Crankworx. Keep in mind that some events are hosted by sponsors and athletes and not Crankworx Whistler, and as a result they won't show up on the official schedule. Sometimes you have to get lucky to get in but you can't win if you're not there.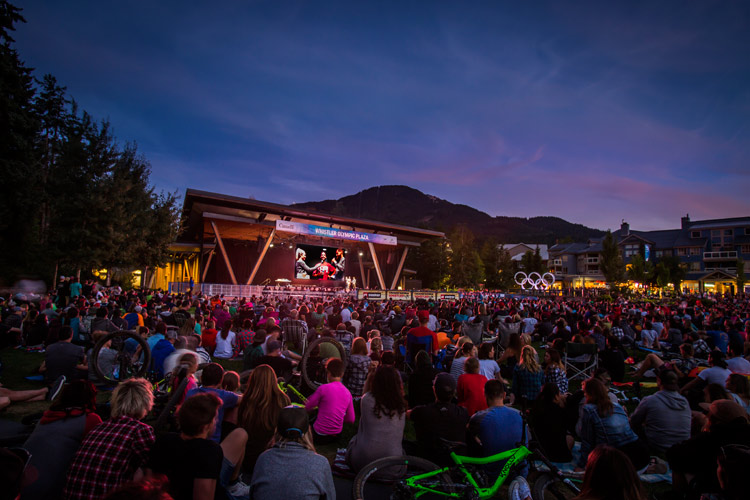 DO … Your research. There's so much going on that you're going to need to plan your days to maximize your own bike time, and to enjoy everything else Whistler has to offer – alpine hikes, awesome lakes and beaches, sun-drenched patios, and more. Crankworx Whistler may be the biggest freeride mountain bike festival in the world, but it's still just the tip of a very large, very cool iceberg of summer enjoyment to be found in Whistler, on or off the bike.
DO… as much as you can. Take a look at the complete Crankworx schedule and find anything else you need to know about Whistler at Whistler.com