"That's one thing I really miss about Whistler: dressing up like an idiot and going out on the town and no one treats you like an idiot, you're just a dude having a great night out. I can't do that here… at all."
– My buddy who moved to Toronto

GLC Staff at the 8th Annual Hot Doggin' Party.
It's no secret that Whistler is a sort of Never-Never Land where people come to avoid growing up so it makes sense that the locals here also love dressing up in costumes at any opportunity. Few adult communities embrace Halloween the way Whistler does, Aussie Day sees a lot of creative get-ups, and the annual Gaper Day (last day of ski season) always brings out the tickle trunk but there is one party each year where costumes are not just encouraged, they're mandatory. The 8th Annual Hot Doggin' party was started by ski legend Ace MacKay-Smith as a way to celebrate that old-time, 70s fun vibe she remembers from growing up on a ski hill, and costumes are a huge part of its success.
"Nudity was the original Whistler costume if you look back at the skiers from the 60s and 70s," Ace jokes. "So our current costumes might come from those roots. Mountain-y types are inherently creative people anyhow… and everyone likes to get silly up here."
The sillier the better. And Whistler's costume culture only seems to be expanding with each passing year and things look promising for the future. It's common to see ski school instructors dressed up in fuzzy animal onesies with a stream of costumed kids trailing behind.

None of these photos were taken on Halloween.
"It's pretty well known that everyone here is young at heart," says born-and-raised Whistler musician Garnet Clare. "Getting into costume reminds people of being a kid, having fun and the freedom of not caring what others think."
Garnet's band, Animal Nation, are actually Whistler costume pioneers in their own right—they were early adopters of the animal onesies and performed in animal costumes onstage at the 2007 World Ski & Snowboard Festival. "It seems like back then there weren't as many animal costumes in town," Garnet explains. "Back then we'd have moms coming up after the show saying 'my kid loves your bear costumes!' and now it is drunk 20-year-old hipster girls rushing the stage saying, 'I love your bear costume!' And of course, that is what we were going for the whole time."
LEFT: Aussie Day animals. RIGHT: Animal Nation (and animal friends) rocking the WSSF mainstage. JIM HEGAN PHOTO
In the end, wearing a costume gives us a chance to be anything we want, to celebrate life and our own expression of creativity, individuality and enjoyment. Why should that be confined to only a few days a year?
Bring Your Own! Ace's tips for easy-to-pack costume fun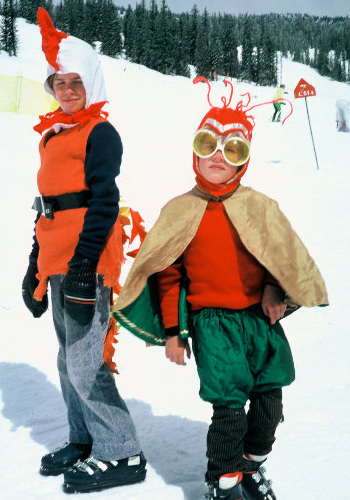 Whistler loves costumes and we especially love guests who come prepared to join the fun. There's no need to pack an extra suitcase though, Hot Doggin' party mastermind and all-around costume queen Ace MacKay-Smith has a few tips for light-and-easy costumes to include for your trip to Whistler.
1.    Afro wig. "Wigs are super light and compact but they can change your whole look really quickly. Add in some cool glasses or accessories and hit the town."
2.    Animal Onesie- "You see these on the mountain more than walking around town but again, they're pretty compact and comfy for just lounging at the hotel too."
3.    Sharpie Marker- "A felt pen fits in your pocket but it can totally change the way your look. Sharpies are like the duct tape of costumes, endless possibilities."

LEFT: Ace (rear) and her little brother at one of those epic 70s ski hill shindigs. ABOVE: One pen to rule them all.
Costume or not, the best way to learn about Whistler (and get here yourself) is always Whistler.com