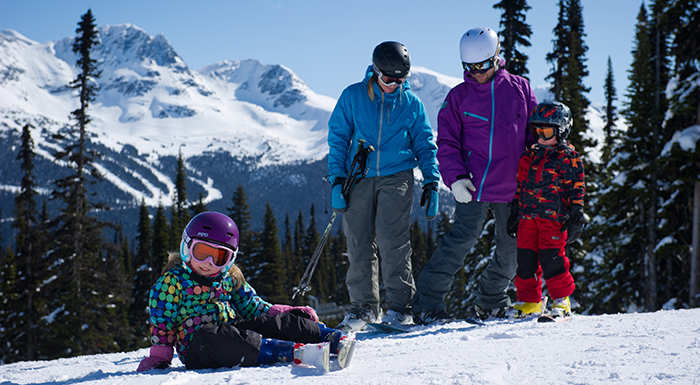 "Family is not an important thing. It's everything." — Michael J. Fox
Little known fact, Michael J Fox is actually a homegrown British Columbian so these wise words carry even more weight as BC's newest public holiday, Family Day, rolls around in February.
Launched by the Provincial Government in 2013, BC Family Day is a new mid-winter holiday designed to give hard-working British Columbians a chance to get out with the people that matter most and enjoy themselves. The unspoken subtext is that the second Monday in February will always make an excellent ski day but really it doesn't matter what you do on Family Day as long as you do it together.
The Insider has already waxed poetic on family ski days of the past and the joys of teaching your kids new sports so this year we're just going to break it down real simple with a list of awesome ideas in our very own
Top 5 Reasons to Spend Family Day in Whistler
1. Best Ski School in Probably the Whole Entire World
Bold claim but we can back it up because Whistler has an army of ski professionals who are renowned around the globe for going above and beyond just to teach you how to turn. The thing about skiing is, the better you are the more fun it is, so why not put the family in some lessons — anything from beginner to backcountry — and enjoy the mountains that much more. The instructors here are so good even the Whistler locals take lessons sometimes.
INSIDER TIP: Put the kids in a half-day lesson and enjoy some beauty early morning laps with your spouse (spouses are family too!) then meet the children for lunch and get out for an afternoon of riding together.

2. Half-Price Lift Tickets
Nothing says "Holiday fun" like saving a bunch of money so Whistler Blackcomb is offering half-price on ski and snowboard lift tickets purchased at the ticket window on Family Day (February 9, 2015). More info.
NOTE: Whistler Olympic Park and Lost Lake XC ski and snowshoe trails had originally been on board with half-price day tickets as well but challenging weather has affected those areas so it is best to contact them for an update, rather than just showing up.
3. Family Après and Fire & Ice
You don't need to go skiing to enjoy après, in fact, Family Après can be the main event of Family Day if you like. From 4:30 PM – 6:30 PM on Monday Feb 9, 2015 Whistler Olympic Plaza will celebrate Family Day with classic outdoor Canadian fun such as tobogganing, snowman building, mini hockey, hot chocolate, free ice skating on the outdoor rink (skate rentals are $5), and more.
There's action the night before Family Day too as Whistler's weekly Fire & Ice Show starts at 6:30 PM at the base of the Whistler Village Gondola on Sunday night. Nothing brings a family together like watching skiers and snowboarders flip and spin through a flaming hoop of fire. Learn the history of the Fire & Ice show on this old Insider post so you can wow the kids with the story behind the event.

4. No Cooking, No Dishes
People without children have families too so this long weekend might be the perfect time to take your parents, siblings or wife/husband out for a gourmet dining experience in one of Whistler's numerous mouth-watering restaurants. Nothing says "hey, it's a holiday!" more than escaping from the routine of cooking and cleaning of everyday life. Of course, there are great dining-with-kids options in town too.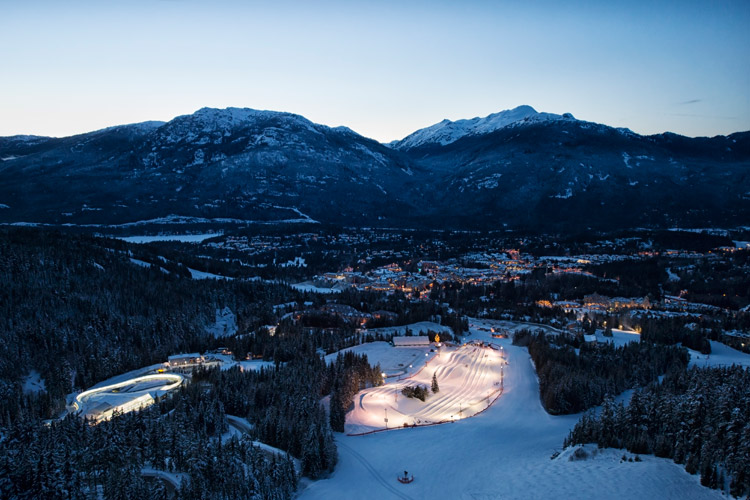 5. Boldly Go Where Your Family Has Never Gone Before
Exploration and discovery are not just for kids and being grown up doesn't mean you should stop stepping outside your comfort zone. In fact, it's all the more reason to get out there and do something that gets the blood pumping and the andrenaline flowing. Why not take the family bungee jumping, or zip lining, or out for an afternoon at the biathlon range? A family of three can all fit into a bobsleigh and hurdle down the same track used in the 2010 Winter Games. Even the Whistler Blackcomb Coca-Cola Tube Park is a big thrill if you have never slid on snow before. Just get out there and live on the edge a little.
Regardless of how you celebrate BC Family Day just remember at the end of the day Michael J Fox is right: it isn't what you do that's most important, but who you do it with. Have fun, happy Family Day.
Whistler.com has special Family Day packages available and anyone thinking of bringing the kids to Whistler should check out this video below for some Insider tips and tricks.