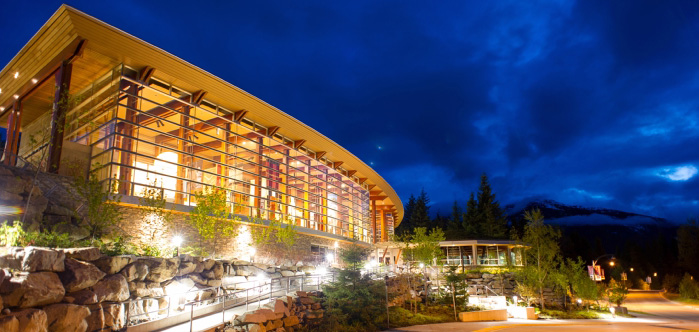 One of Whistler's most exciting legacies from the 2010 Winter Games, the Squamish Lil'wat Cultural Centre (SLCC) celebrates its second annual Spirit Within Festival September 26-29, 2013 with a packed schedule of arts, dance, food and music.
"It's great to see Whistler embracing a culture that has been here for thousands of years," says Russell Wallace of Kalan Wi, an award-winning local First Nations musical group. "With more and more talent and exhibits in the centre each year the Indigenous presence is here now. I think it is a great thing for Whistler and an exciting time for Indigenous culture."
That excitement will be on full display at the Spirit within Festival with everything from artist demonstrations and musical performances throughout the Village to a Vancouver Aquarium Aquazone giving kids a closer look at some of the cool creatures and marine life of the Salish Sea.
Each evening the SLCC will come alive with music and dance performances. "Music is probably the most accessible of the arts," Russell says. "Music is everywhere. There are great things happening in Indigenous visual arts too but you usually have to go to a gallery. With music, you can take it with you."

Russell Wallace (left) and Kalan Wi playing at the SLCC. MIKE CRANE PHOTO
Russell and Kalan Wi perform Friday September 27th at the Sunset Celebration and BBQ as part of the Day of the Young Raven – Tricksters, Innovators and Creators programming.
"Most of our songs are based on traditional songs and we've just added instrumentation or modernized them a bit,' Russell says. "Leroy Joe is the main writer of the band and a lot of what he does is take the old songs and add different bridges, or he will translate them into English as well."
The Tricksters, Innovators and Creators evening also includes Ontario Six Nations blues pianist Murray Porter, BC singer-songwriter Kristi Lane Sinclair who performs a unique mix of grunge, classical and folk music, and half-Cree cellist Cris Durksten fusing and playing within a plethora of genres from country to classical to hip hop.

The diversity of First Nations music excites Russell Wallace. "It just shows there are many voices to what we are doing," he explains. "On Saturday my family group is collaborating with some Japanese Taiko drummers. Combining our traditional music with a Taiko drum and making connections and exploring other cultural communities is really exciting."
That show takes place Saturday at 12:30 PM and 3 PM in the Great Hall of the SLCC. Later that evening the Raven Celebration features two performances from traditional Salish drum and dance groups, including Lil'wat Nation hoop dancer Alex Wells, a three-time world champion Hoop-Dancer.
"I guess what I am most excited about is having all that diversity in one spot," Russell says. "We don't get a lot of opportunity to perform with many of these other groups so it is great to be able to catch up with everyone and see and hear what they are doing. And the food is amazing…"

As Russell hinted, music is only a small portion of the offerings at the Spirit Within Festival. To find out about all the other events and great food, art, history, storytelling, film, dancing (even ballet!) and more check out the Spirit Within Festival official page. For accommodation and other Whistler events hit up Whistler.com