Updated June 2018.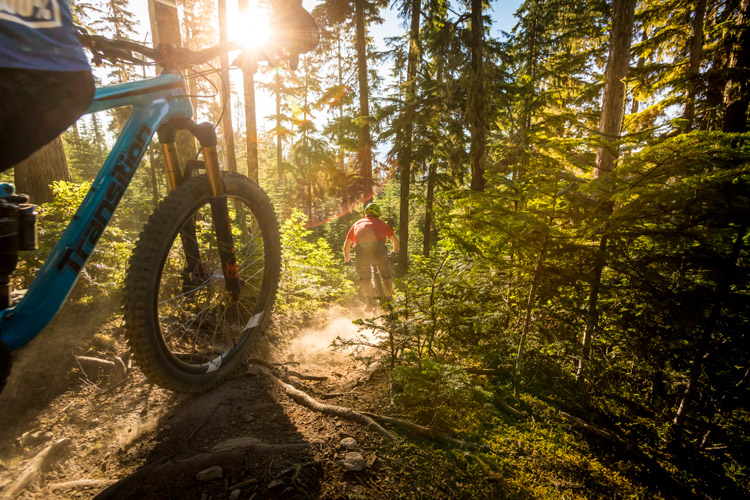 With solid advice for riders of all skill levels, Seb outlined his top Must-do's for the Whistler Mountain Bike Park and now he's taking his wisdom beyond the park and out into the Whistler valley. The cross-country trails in Whistler are a maze. It's best to just hit a local bike shop, find the most up-to-date map you can, ask for a good starting point and go exploring. Trailforks also has a smartphone-friendly database that includes many of the area's trails for access on the go.
Local ratings err a bit on the difficult side so be prepared – some blues will feel black and Whistler's black diamond trails really are quite challenging. Pump up your tires and grab some water – let's do this.
1. Lost Lake Trails
Just five minutes of gentle pedaling from Whistler Village lies the tranquil recreation wonderland of Lost Lake Park. A dense network of trails weaves through the forest with lots of options for beginner to intermediate riders. Any rider who wishes to explore Whistler's 250km of singletrack owes it to themselves to start in Lost Lake and get a feeling for the type of terrain, features, and style of cross-country riding that characterizes the Whistler area.
After an exhilarating loop (try Tin Pants, Fountain of Love, Pinocchio's Furniture, Jelly Gum Drop Roll, Central Scrutinizer, Grand Wazoo) finish at Lost Lake itself for a refreshing swim and a cold drink from the kiosk. Despite the name, Lost Lake feels more like a paradise found.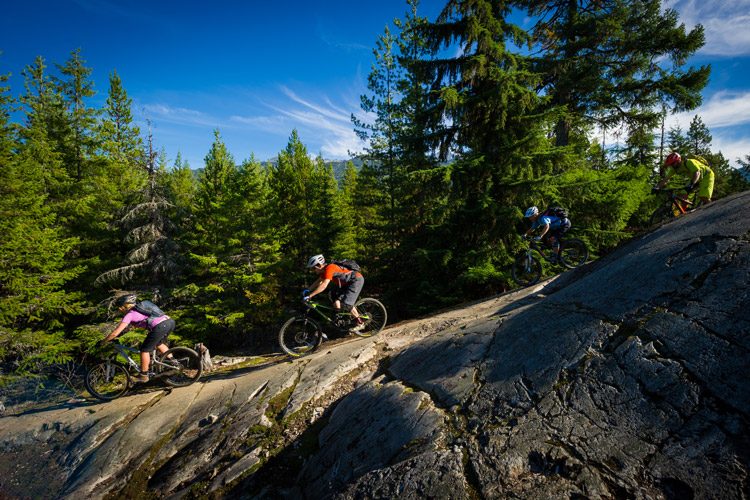 2. Danimal (Middle and North)
Located in Whistler's Westside trail system this classic piece of singletrack is definitely worth the adventure of getting there. These days Danimal is split into two pieces, Danimal-Middle or Danimal- North. Riders looking to gain elevation quickly can climb on the sealed Stonebridge road keeping an eye out for the marble plinths that mark the trails. Another option is to start on Alta Lake Road above the Nita Lake Lodge and climb up Lower Sproatt trail until you see the Danimal crossing (use the Piece Of Cake and A La Mode ride-arounds, you'll be thankful). At the crossing, take the right turn for Middle and Danimal North.
3. Cheakamus Lake and Riverside Trails
Part of the allure of mountain biking is being able to cover a lot of ground quickly in order to access remote areas. Often overlooked, even by local mountain bikers, the Cheakamus Lake Trail leads to some of Whistler's finest views.
Starting at Cheakamus Crossing (approximately 8 KM south of Whistler) ride east on the Riverside trails as far as the suspension bridge. Ensure you're on the north side of the river (cross it if you need to) and continue to climb the logging road to reach the Cheakamus Lake car park (Note- riders squeezed for time can cheat and drive to this point too).
Find the trailhead and cruise through the old-growth forest on well-maintained, easy-to-moderate singletrack trails that parallel the lake. Eventually the trails come to a dead end which gives riders the perfect opportunity to stretch out on the lake's edge and admire the view. Bring your own lunch or try your luck with a spot of fishing (licenses are required). Pack plenty of water and supplies as this mini-adventure can take anywhere between 2-6 hours. Be aware that this trail is shared with hikers so stay alert.
Riders looking to stay on single track in the area can check out more trails in the Cheakamus area including the Riverside loop or a combination of HiHi, Highline, AM/PM and Duncan's (It's Business Time).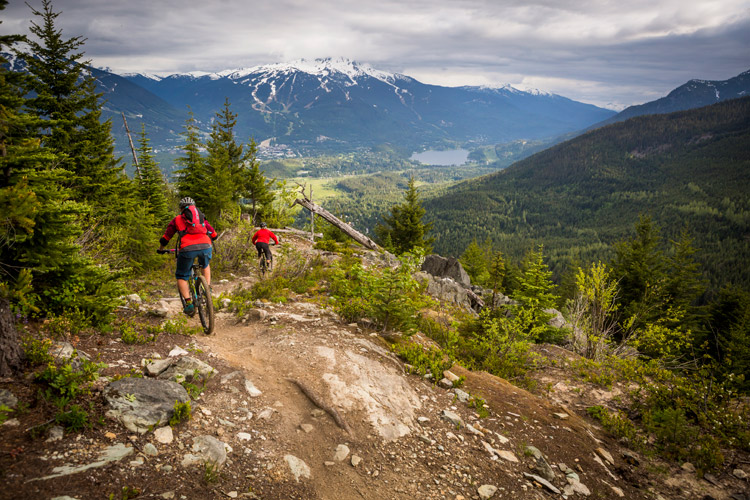 4. Howler
It's a long climb, but the views are worth it. Located in the zone known as Whistler North, Howler is not for the faint-hearted. The climb starts in Alpine, with a slog up Rick's Roost and the Flank Connector, continuing on the Rainbow-Sproatt Flank Trail North. It's the type of climb that will have you regretting the extra beer the night before, so make sure you bring plenty of water and food and be prepared to get into a rhythm.
The last section of trail may demand a a bit of pushing due to its steepness, but the view across the whole valley to Whistler and Blackcomb mountains is spectacular. And the descent – long, loose, rocky and with a level of exposure that seals it's status as a black – will make you very happy indeed.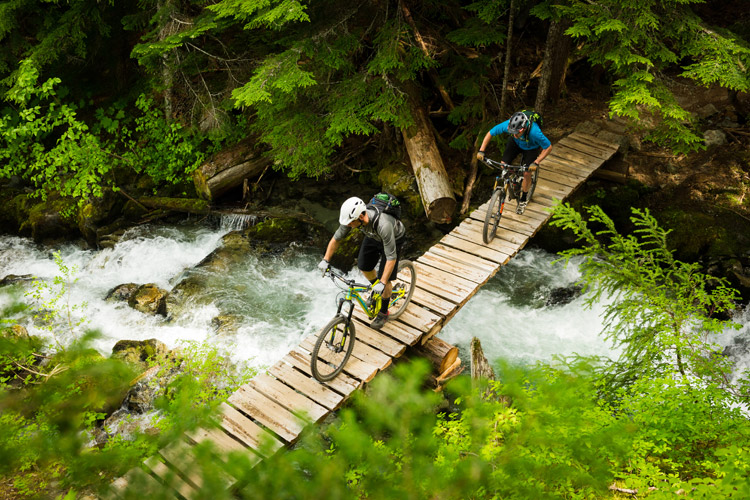 5. Comfortably Numb
Comfortably Numb is on the IMBA Epic Rides list. The 24 KM point-to-point, entirely singletrack trail might not seem like much but riders should ensure they prepare because it takes a lot longer to complete than most people bargain for. And once you're on it there are only two ways out: forwards or backwards.
The trail is best ridden from north to south so it requires a lengthy road ride to get to the northern end but then you finish right in the Lost Lake trail network just minutes from the Village. The trail itself is rough and rooty with not a single metre of easily achieved elevation gain. Comfortably Numb winds through magnificent old-growth forest and crosses several stunning gorges that will have you marveling at the madness of the trail's builder, Chris Markle, a local legend.
The trail takes between 3-7 hours to complete and you'll likely feel like you've ridden three times the 25 KM distance. Must-haves for this one include extra water, food, and emergency supplies for medical or bicycle. Cell coverage is almost non-existent once you are on the trail. Which only adds to the adventure right? Have fun.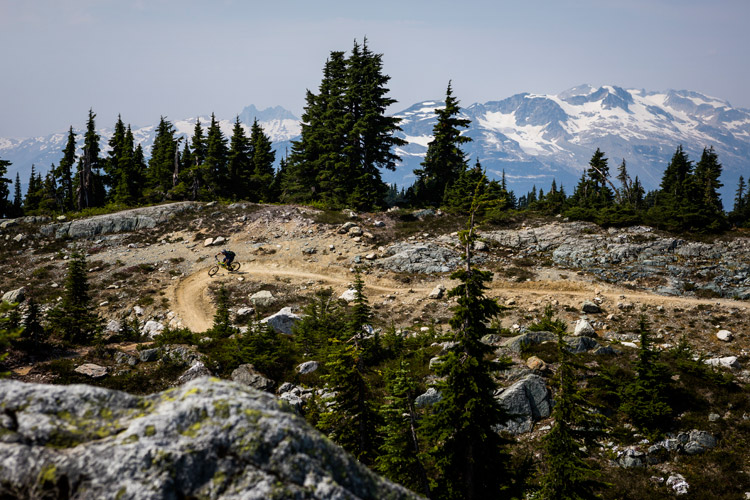 6. New: Sproatt Alpine Trail and Lord of the Squirrels
Now officially open, the Sproatt Alpine Trail Network is a new Whistler riding experience. Riders get a new, epic, big day out kind of ride (think Chilcotins, with a choice of patio at the end of the day) with a long alpine ascent followed by the 8 km blue, flowy descent trail known as Lord of the Squirrels. Like Comfortably Numb, this is a big ride requiring decent levels of fitness and bike handling skills, so work up to it. Check out the sneak preview video of the trail below. Note that this is an alpine trail, so may not open until mid or late summer depending on the snowpack. Local knowledge is key, so chat to the bike shops before you head out.
Locals know late summer and fall are the best times to ride – check out Whistler.com has some smokin' deals on accomodation and packages.