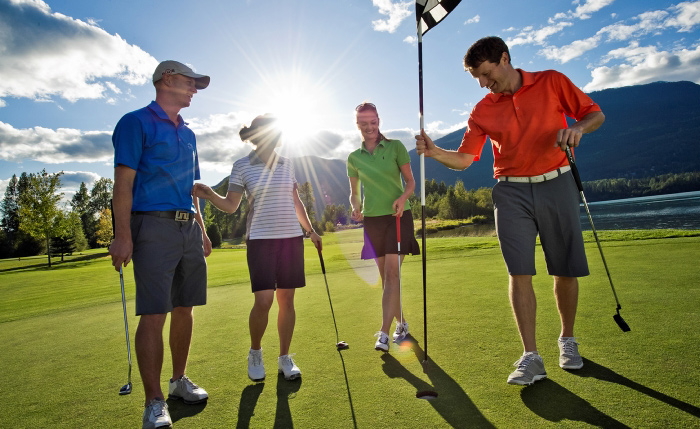 Some things just go well together. Sunshine and patios, french fries and gravy, anything and après. And when it comes to fundraising for charity no sport does it as well as Golf. With four world-renowned golf courses and a valley-full of extra activities from shopping to spa-ing to ziplining, Whistler hosts numerous charity golf tournaments each year and raises hundreds of thousands of dollars.
"It's a fundamental part of the culture," says Mike Zuccolin, general manager at Nicklaus North Golf Course. "It starts at the top and trickles down all the way." In 2012 the PGA Tour established a new record by raising over $130 million through various fundraising and charity tournaments. Their all-time total is over $1.8 billion.
Whistler golfers are chipping in as well. Earlier this summer Zuccolin along with Nicklaus North Director of Golf Andrew Smart played 24 straight hours of golf as part of the Golfathon for ALS . Beginning at 5 PM on June 15, 2013 Mike and Andrew's 24-hour round saw the duo complete 290+ holes back to back and put together some pretty impressive numbers.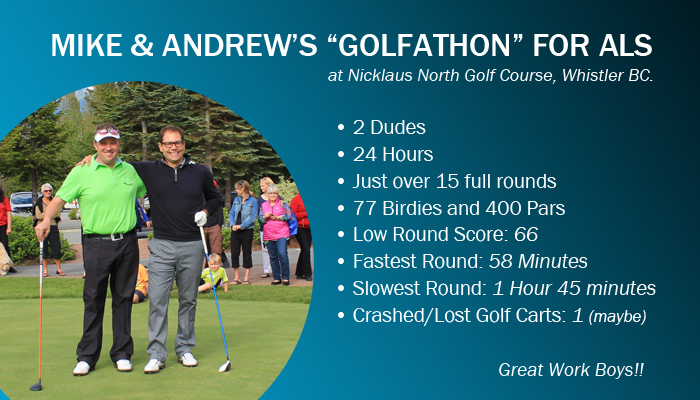 And the most important number of all—over $24,000 (and counting) was raised to support the ALS Society of BC. "The whole experience was amazing," Mike says. "We had a lot of friends and supporters out. When it got dark we had two carts with floodlights but one of our members also came with his own cart and lights. It was a bit of a party at times."

24-hour Golfathon at Whistler's Nicklaus North Golf Club. PHOTOS: David Buzzard.
A party atmosphere is not what golf is known for but when duty calls… "That's one of the reasons golf charity events work so well," says Ro Davies of the Whistler Golf Club. "It's an individual's game but you play it with other people so it's a social game as well. It's perfect for bringing people together for a good cause."
When everyone's a winner, skill level doesn't seem to matter. "With charity tournaments it's about having fun on the golf course and raising money," says Keely Shannon at the Fairmont Chateau Whistler Golf Club. "Any skill level, any age, it's just fun to be a part of it. Although, someone did win a Cadillac for a hole-in-one at last year's TIP Invitational. So if you have skills, bring them."

LEFT: Big Sky Golf and Country Club. RIGHT: "The Bridge" at Nicklaus North.
Bring your camera too. Whistler's courses are known around the world for inspiring scenery and ridiculous mountain, lake and forest views. With 2,591m (8501 feet) Mount Currie towering over their course at all times, Big Sky Golf & Country Club's Jess Martin believes that playing the game in such incredible surroundings also helps motivate people to donate.
"I think people realize how lucky we are to be able to play golf and live in such a beautiful area," she says. "They understand golf is a bit of a luxury and you have to give back when you can. It is a gentleman's game, after all."
Hit up Whistler.com Learn more about each of Whistler's four incredible (and incredibly generous) golf courses and the next time you get a chance to sign up for a charity tournament, do it!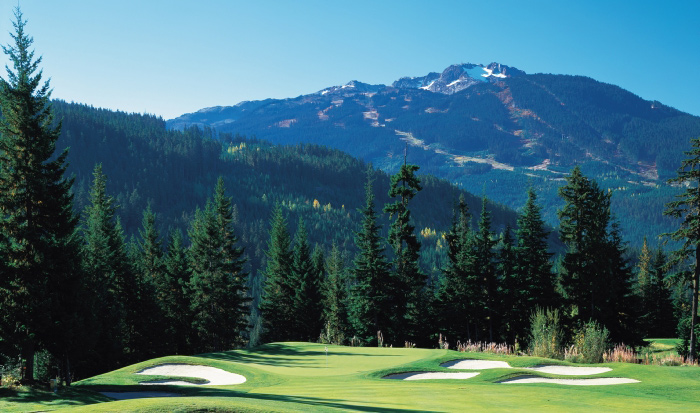 Chateau Whistler Golf Club