The best things in life often get less attention because they naturally make sense. Amidst a valley of incredible natural beauty, record-setting attractions and industry leading ideas and people, a simple bicycle path build thirty years ago may be Whistler's greatest asset and legacy.
What is the Valley Trail?
The Valley Trail is over 40 km paved non-motorized path system connecting all of Whistler's lakes, parks and neighbourhoods. From the rushing waters of Cheakamus River the trail winds north through Whistler Creekside, the Village, Meadow Park and Nicklaus North before ending on the shores of aptly named Green Lake. The Valley Trail is not only an integral zero-emissions transport artery for Whistler residents it's also an accessible (and free) way for guests to venture out into the lush forests and beautiful scenery of the valley.
Jump to 6 Perfect Sightseeing Spots on the Valley Trail.

History of the Valley Trail
"It opens Whistler up," says Tom Barrett, one of the forward-thinking locals who planned and developed the Valley Trail in the early 1980s. "The trail allows anyone to see the wetlands and lakes and forests. It gives you different views of the mountains and lets people who aren't hard-core hikers or bikers really experience Whistler."
Paved community bike trails seem like a no-brainer nowadays but in 1982, when Whistler started reallocating parks and recreation funds to widen and pave the land above their new sewer line the concept was brand new to BC.
"I went to university in Eugene Oregon," Barrett explains. "The school had 17,000 students and 3000 parking spots. There was a huge bike trail system and that influenced our actions up here. Once the local mothers discovered their kids could ride to each others' houses without going on the highway the community was behind it all the way."

In 1983 the trail pushed north out to Meadow Park and then south to connect Nita and Alpha Lake providing easy, enjoyable access to some of Whistler's greatest summertime spots. Within two years the first mountain bikes began arriving in town and suddenly casual weekend visitors could rent bikes and get out and explore.
Thirty years later the Valley Trail remains one of Whistler's greatest assets. There are few experiences more uniquely Whistler than hopping on a bike or pushing a stroller or wheelchair or skateboard out into the towering rainforests and panoramic vistas of the Whistler wilderness. The real value of the Trail is not where it takes you but rather the way in which you get there: Safe, slow, scenic and always ahead of its time.
The Valley Trail – 6 Perfect Sightseeing Spots
To highlight the utter awesomeness of the Valley Trail The Insider has put together this collection of snapshots featuring some of our favourite spots along the route.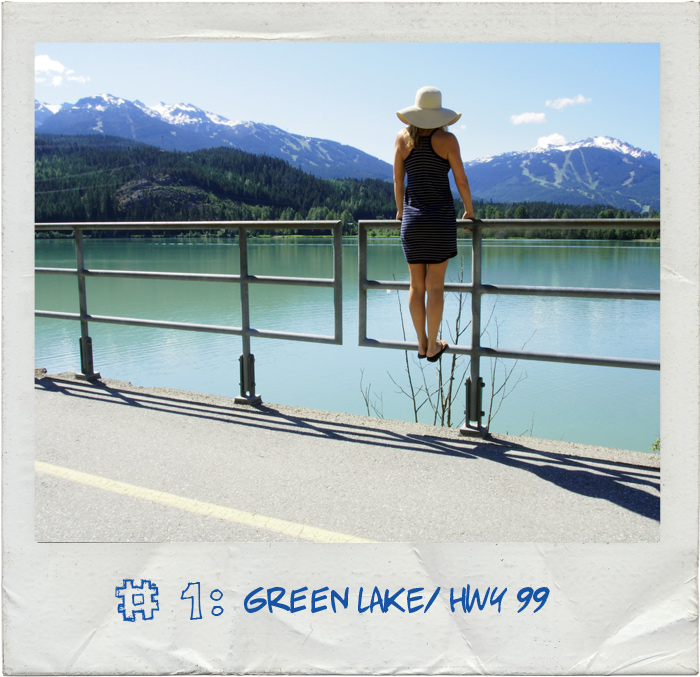 1. Green Lake & Highway 99
At the north end Whistler the Valley Trail follows highway 99 along beautiful Green Lake with incredible views of Whistler and Blackcomb Mountains. Not a lot of people venture North of Whistler Village so this is a new perspective for many.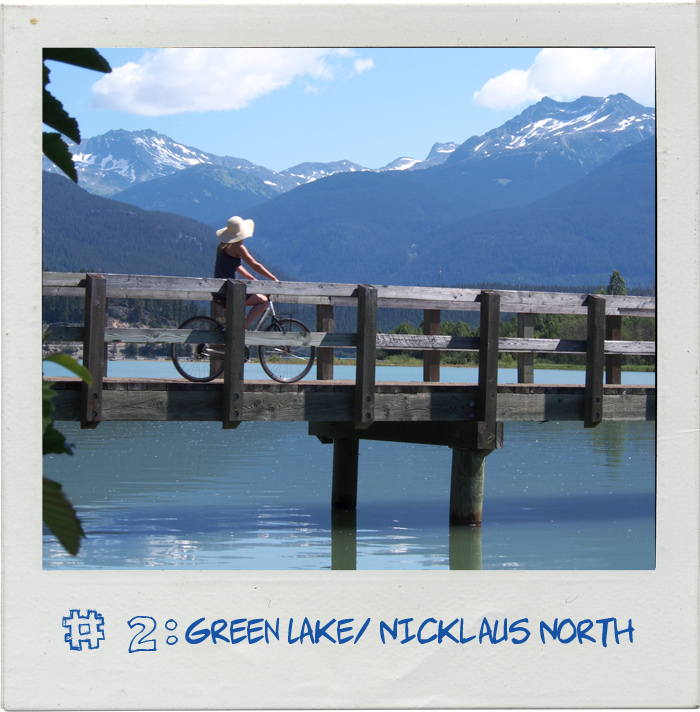 2. Green Lake at Nicklaus North
The Valley Trail has a lot of bridges but this one, on the South end of Green Lake near the Whistler Air floatplane docks is the longest and most scenic.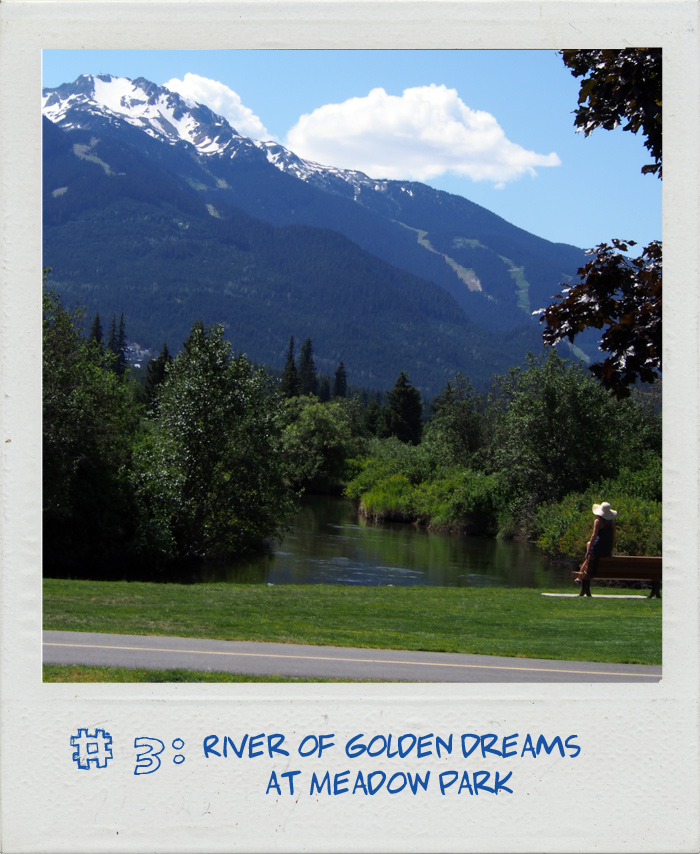 3. River of Golden Dreams at Meadow Park
It's hard for something called "The River of Golden Dreams" to disappoint. The trail has dozens of benches along its route for resting, regarding and contemplating life. This one is a local's favourite summer or winter.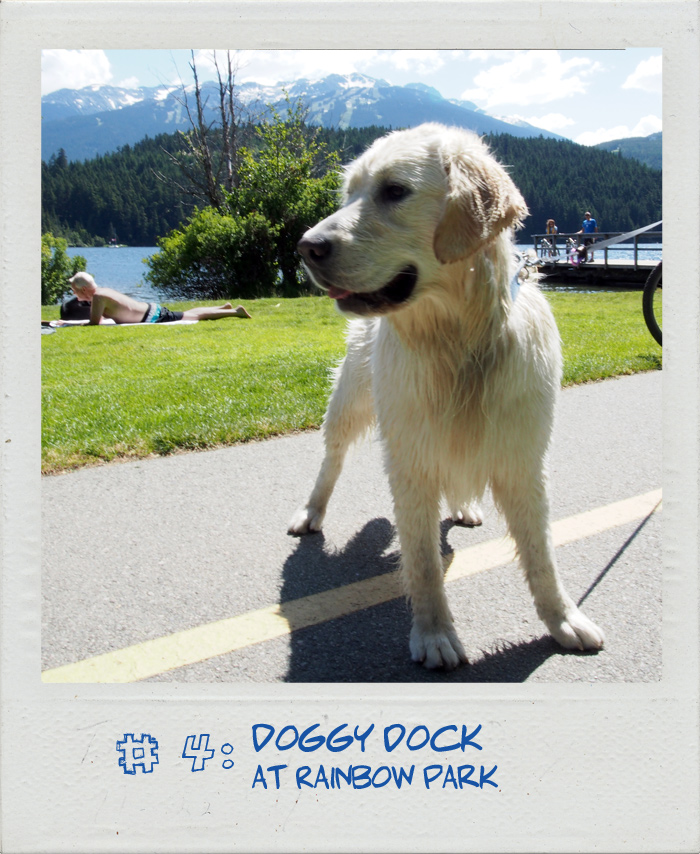 4. Doggy Dock at Rainbow Park
Whistler loves dogs and as such the Valley Trail is pet friendly. The official rules are that all dogs must be on a leash while on the Valley Trail but the Doggy Dock at Rainbow Park is a perfect place to let your little buddy loose to cool off and make friends. The views across Alta Lake aren't too shabby either.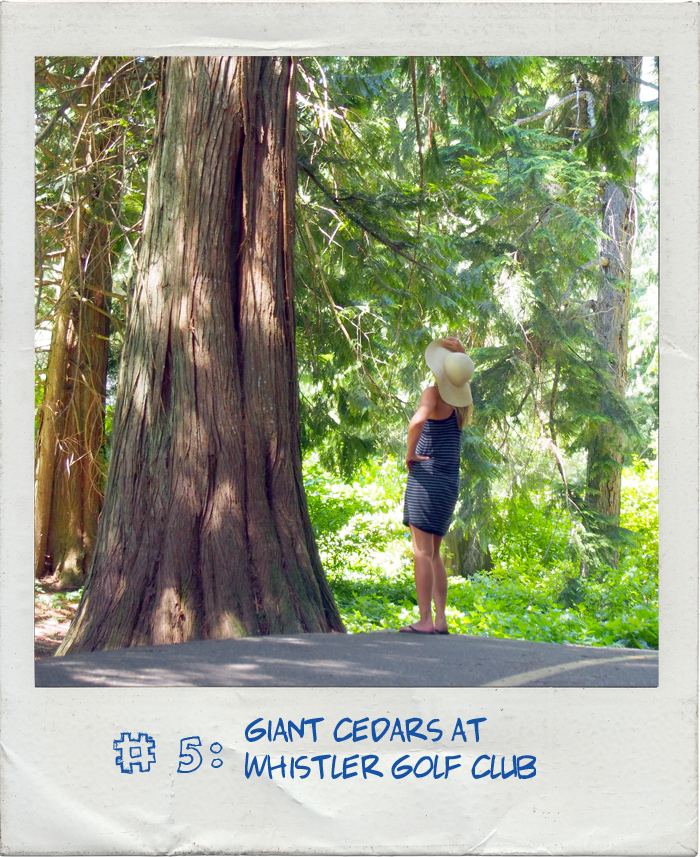 5. Giant Cedars at the Whistler Golf Club
The Valley Trail weaves through a lot of incredible Coast Mountain rainforest but some of the biggest and best trees can be found at the north end of the Whistler Golf Club, only a ten minute walk from the Village.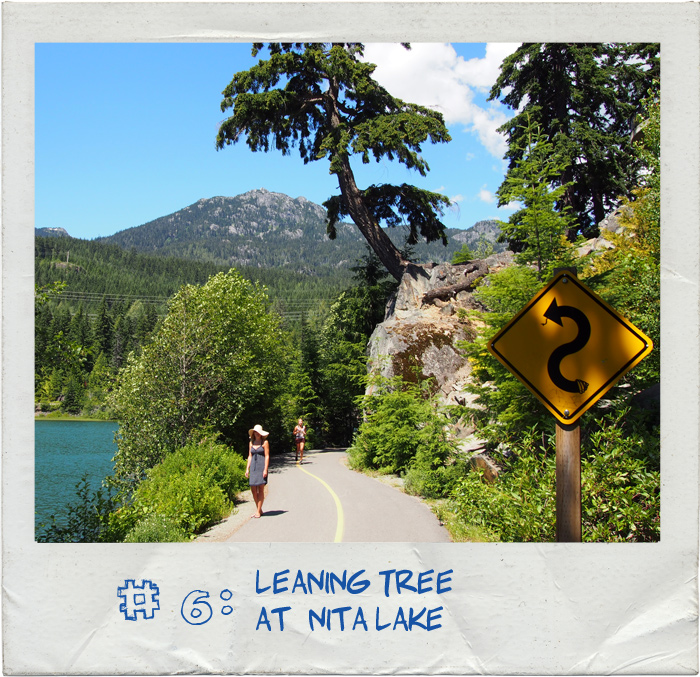 6. Leaning Tree at Nita Lake
Nita Lake is often overlooked in favour of Whistler's larger bodies of water but the Valley Trail along these shores was one of the most technically challenging parts to build. According to Tom Barrett they blasted a lot of rock out of that section, which was unheard for a bike trail in those days.
Map of 6 Perfect Spots on Whistler's Valley Trail
View above or download this map for semi-exact locations of each of the above photos but there are literally hundreds of incredible photo opportunities along the Valley Trail so grab your best sun hat and get out there exploring. If you are planning to visit in winter months, check out our Insider's guide to winter walks.