To a kid, a bicycle is freedom. That first bike suddenly gives you the means to go where you want, when you want and if you peddle hard enough you may even get away from the watchful eyes of your parents– and that's when the real fun begins.
The Whistler Mountain Bike Park is known around the world as a place where adults can recapture the thrill and childish magic of life on two wheels but what about the actual kids? Where can a toddler go to practice those initial pedals towards their future?

A toddler on a bike? Yes indeed. Times have changed since we were kids and Balance bikes (also called run bikes or push bikes) allow even a two-year-old to rip it up. Originating in the bike-crazed streets of Europe, run bikes have only surfaced in Whistler in the last 7 years or so. They're basically tiny bikes with no pedals. A toddler can sit on them, feet touching the ground, and push the bike around at whatever speed they're comfortable with.
As they gain confidence and learn balance, tiny little kids can run the bike faster, lifting their feet to glide and learning the basics of balance on a bicycle- no training wheels required. By age four local Whistler run bike kids are dropping into stuff that would have been inconceivable a decade ago. With a run bike and child's pedal bike to choose from, kids learn to pedal at their own speed and comfort level without missing out on any of the fun. These little bikes really are game-changers.
"Kids love it," says Whistler Bike Park Manager and local father Brian Finestone. "As long as parents throw on long pants, a helmet and ideally some elbow pads and gloves the kids can take the falls they need to get used to all facets of biking at an early age."

Finestone's own son, Finn, started on a hand-made run bike his dad built and now, at age ten, he's one of the hottest rising bike stars in town (check out Finn and local pro-rider Ian Morrison in the video below.)
Nobody rents run bikes but both Whistler Village Sports and Evolution have them for sale. And here are Whistler's best (free) spots for pint-sized gliders to hone their biking skills:
The Flo Park
Located adjacent to the Skateboard Park on the edge of parking lot #3, The Flo Park is a series of small wooden rainbow bridges and miniature dirt features—perfect for any run biker to feel like a big kid and just a short walk from the Village.(Note: While the Whistler Skatepark does look like a fun place to run bike, it's also the only place for Skateboarders to enjoy their sport so a bunch of tiny biker kids getting in the way will almost certainly ruffle some feathers (a bunch of tiny kids on skateboards, however, will be welcomed with smiles and high fives.)

The BMX/Dirt Jumps
Just metres away from the Flo Park, these massive mounds of dirt look far too intimidating for beginner riders. But there is a smaller line of "jumps" on the river side of the park that more experienced run bikers could session if the park's not too busy.
Ross Rebagliati Park
Also really close to the Village,right beside the covered bridge, this park is all grass and has some very mellow hills for kids to get comfortable on. Grass is slippery when wet, but hurts a lot less when you bail.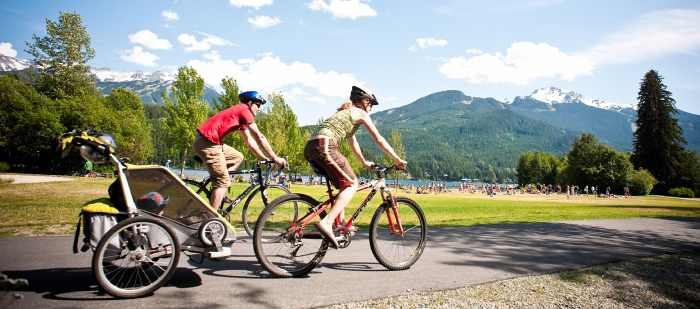 The Valley Trail
Some sections may be a bit busy or steep for new riders, but the Valley Trail out by Meadow Park Sports arena is flat and perfect for tiny bikes (plus there's a waterpark there). As well, the trail from the bottom of Lorimer Road (park at the church) is scenic and flat and ends at beautiful Rainbow Park. Alpha Lake Park, in Whistler Creekside is another nice flat stretch of trail with a great beach.
As the kids get older, braver and more pedal-inclinded they can rip the wide gravel trails around Lost Lake, and it won't be long before they'll start looking to drop into the infamous Bike Park too. Starting at age 6 your little rippers can get into the DFX Daily Kids Program and learn to bike under the guidance of experienced, professionally certified coaches.
Bikes are a kid's first real freedom but if you play it right your children will actually be excited about riding with their parents, for a little while, at least.