Updated: October, 2018 with the new Sproatt Steak Dinner option.
Editor's Note: These are the 12 days of Christmas, Whistler Style so strap in and get ready for a week and a half of snow, excitement, twinkling lights, good times, great food and fantastic winter enjoyment. No Partridges, no pear trees (although there may be some tree skiing.) Happy Holidays.
As the snow continues to fall in the mountains around Whistler, the sixth day of Christmas is all about discovering a new way to shred pow. Ditch the skis, snowboard and/or snowshoes and hop on a snowmobile—it's a fresh, new world of good times.

Whistler snowmobile tours range from three-hour afternoon trips in the local forests or ski hill Mountain to epic seven-hour powderhound journeys into the wilderness of the incredible Callaghan Valley. Regardless of where you go, there's something really fun and awesome about being able to hammer a throttle and bust through white fluffy powder in a way you never will on skis or boards.
The must-do sled tour this holiday season is the Mountaintop Fondue. Guides from Canadian Wilderness Adventures lead a convoy up Blackcomb Mountain to the Crystal Hut for a candlelit fondue dinner accompanied by live acoustic melodies and a single glass of fine wine at 6,000 feet above sea level.
Few things are as magical as being in the high alpine after dark with Whistler Village twinkling below and the winter moon reflecting off the sea of glaciers and peaks. Throw in a cheese fondue and a few hundred horsepower of motorized good times to get you there and back and the experience becomes "all-time."
More timid fondue fans can opt to ride a snowcat to the top rather than snowmobile, and Canadian Snowmobile is offering two seatings of the Mountain Top Fondue on New Year's Eve. There's no better place to ring in the New Year than the top of a mountain and the special New Year's menu includes homemade fruit pie baked on-site in the wood-fired oven.
If you fancy going a little further afield then there's always the Callaghan backcountry Steak Dinner option. As dusk falls you venture up Sproatt Mountain for a three-course steak dinner cooked on an old-fashioned wood stove grill. How Canadian is that? Your Angus beef sirloin is served with garlic mashed potatoes, seasonal vegetables and a feature dessert prepared by the Bearfoot Bistro.
Book the New Year's Eve Fondue or any other snowmobile trip at Whistler.com.

Last Minute Gift #6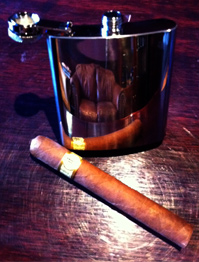 Drinking and smoking are not really all that good for you, but that is also one of the reasons people like to partake, especially men. Moderation is the key but this Christmas, nothing says, "You're special" like a shiny new flask and a legit Cuban cigar. Find a wide variety of both at Castro's Cuban Cigar Store in Whistler Village.