Updated by Editor, August 2019.
Of all the things to do in Whistler, seeing a bear is at the top of most people's lists. The best places to spot a bear in Whistler are situations that don't put you or the bear at risk. With this list of hot-spots, there's a good chance you'll see a bear in its natural environment.
On a Bear Viewing Tour
A bear viewing tour, either with Whistler Blackcomb or Whistler Photo Safaris, is undoubtedly your best chance at seeing a bear. Not only will you get a chance to see them but you'll also learn lots of interesting facts from local bear experts.
From the Chairlift
Gondola and chairlift rides create a perfect bear-spotting perch. Black bears have even been known to take a little snowslide to cool their hairy bellies down. Berry patches on Blackcomb Mountain are prime spotting territory. From Creekside, the eagle-eyed can often spot a bear grazing on the Creekside ski-out.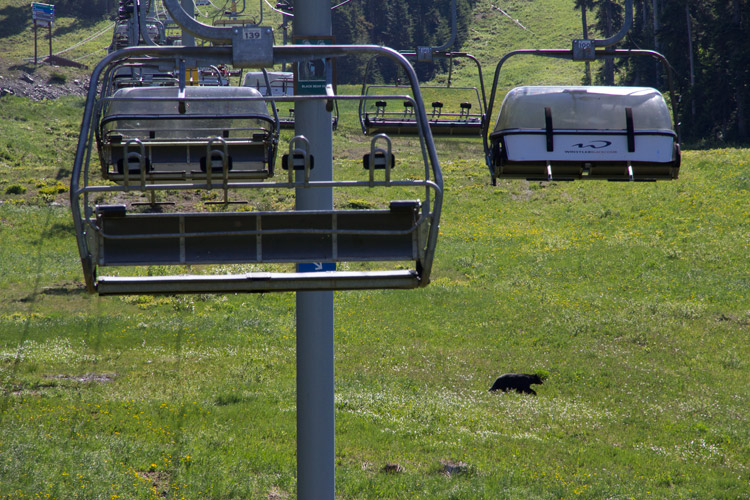 At a Golf Course
In spring, as bears emerge from hibernation, they "unplug" their digestive systems by scarfing down skunk cabbage. While on the greens at one of Whistler's golf courses, keep your eyes open for boggy, soggy areas where the plant likes to grow. Most of Whistler's golf courses have committed to keeping "naturalized" zones, with fescue grasses, dandelions and tree islands attracting Ursus Golfus. Note that the Whistler golf courses do not allow non-golfing bear viewers on course.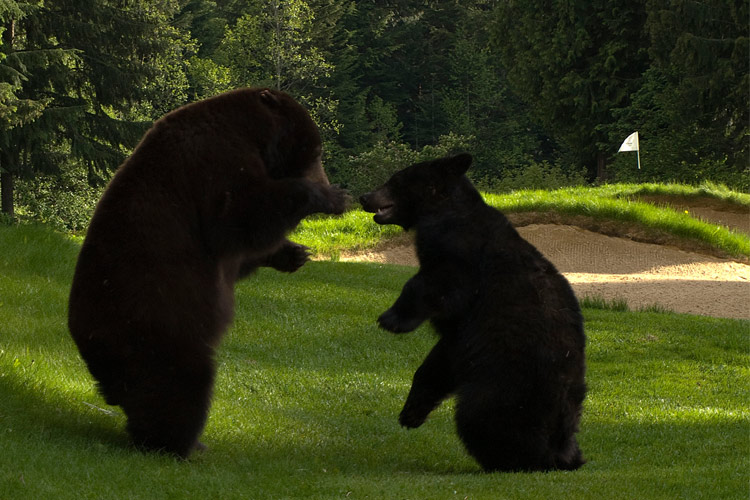 On the Mountain Bike Trails
Any trail is easier for a bear to travel along than pushing through dense bush so mountain bikers do see a lot of bears. Bikers have also been known to see Whistler's resident bears hanging around Easy Does It in the Whistler Mountain Bike Park at dusk.
What You Need to Know
Whistler is prime black bear habitat. Spotting a bear always comes with a jolt of wonder. . .  but more serious collisions can also occur. When there is human-bear conflict, it's the bears that pay. Every year, Whistler area bears end up needing to be relocated or euthanized. This is to prevent life-threatening interactions because of human caused conflict. Be responsible and brush up on your bear smarts and follow these best practices for bear viewing.
The worst places to spot a bear in Whistler: in your dumpster, by the highway, or within 25 feet of you.
INSIDER TIP:
Here's
what to do
if you encounter or surprise a bear.
Whistler bears might graze on your garbage (the ultimate "junk food"), cause a traffic-snarling "bear-jam" as people pull off the highway to grab some happy-snaps, or have their personal space invaded by a random encounter with enchanted humans. Unfortunately, the next step is usually bad news for the bears. In 2010, at least 10 Whistler bears were killed by vehicles and another three were injured.
Keep your distance, manage your bear attractants and you'll help keep them wild.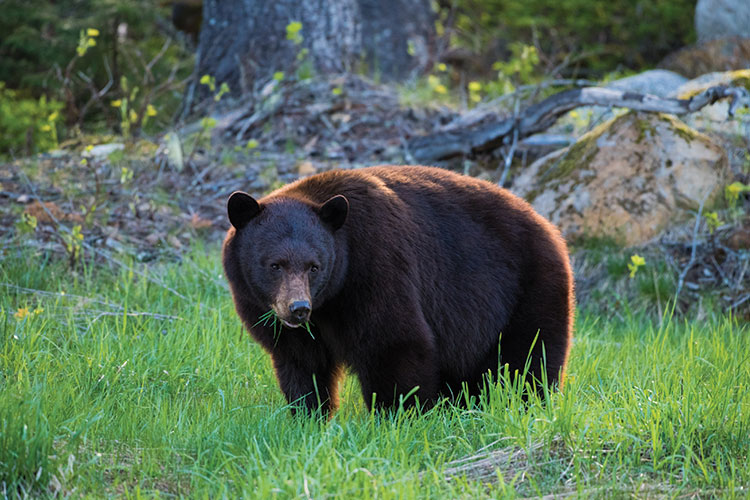 Read more about bears in Whistler or book a bear viewing tour at Whistler.com.