Updated November 4 with new details on this year's film lineup.
From November 30 to December 4, Whistler sees an influx of movie lovers, film industry big wigs and up-and-coming talent. High heels and leather loafers mingle with ski boots, as the mountains ready the red carpet for Canada's coolest film fest, Whistler Film Festival (WFF22).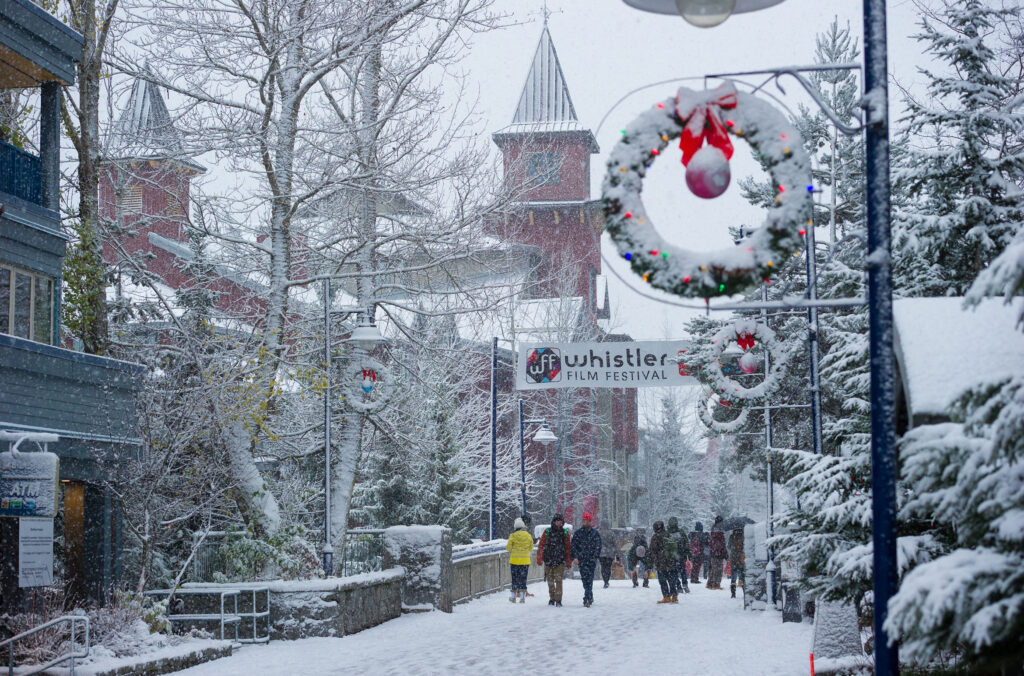 The 2022 lineup includes 86 bold and inspiring films with the big star power of Daniel Craig, Edward Norton (Glass Onion: A Knives Out Mystery), Anna Kendrick (Alice, Darling) and Jon Hamm (Corner Office) to name just a few. The opening film on Wednesday, November 30 is White Noise, starring Adam Driver, Greta Gerwig, and Don Cheadle. It's a parody of the ideal, American, nuclear family under threat in an apocalyptic, black comedy.
In total, the Whistler Film Festival will showcase 41 features and 45 shorts from 19 different countries, including award-season contenders, new breakthrough Canadian features (more details on these below), heart-stopping extreme adventure films, and previously unseen projects from around the globe. Take a look at the full film lineup and grab some tickets!
The intimate setting also allows movie buffs to peer behind the camera with events like the live Power Pitch competition giving you insight into how the industry works. Yet another reason to come to the coolest film festival in Canada this winter.
BC-Based Directors
Six films from BC-based directors make up the first wave of films released for the 2022 festival.
"This is by far the strongest lineup of BC-based features that the Whistler Film Festival has had in many years. We look forward to sharing these home-grown titles with the world." Paul Gratton, Director of Film Programming at the Whistler Film Festival.
Exile, directed by Jason James, is in the Boros Competition for Best Canadian feature and WFF will be its world premiere. Canadian actor, Adam Beach plays convict Ted Evans, who, just prior to his release from prison, receives a threat from the man whose family he killed in a DUI. Believing that the danger is real, Ted exiles himself to a reclusive life to protect his family.
Writer, producer and director Carl Bessai examines our culture's obsession with image and our increasing dependence on technology in his film, Féline@6.15. We spend 12 consecutive hours in the intimate company of a young, Los Angeles social media influencer. We quickly learn that behind the enviable veneer is a lonely, doubt-ridden individual who's struggling to find meaningful connections with those around her.
"A day in the life of a young media star, fearing her own mortality, is fertile ground for an insightful commentary on our current obsession with social media," Bessai writes in his press book. "Our film is a spiritual exploration of this beautiful, young influencer named Féline (Woan Ni Wooi making her film debut) who must wait until the end of the day to get the results of her medical tests."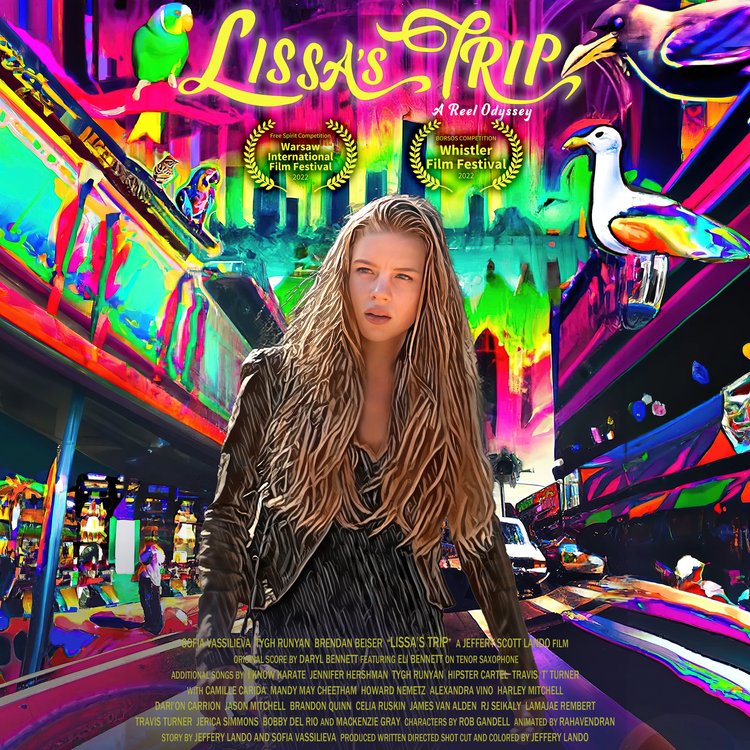 Then things get a little hallucinogenic with Lissa's Trip as we watch a budding actress try to get to an audition after accidentally taking a lot of acid. Writer, producer and director, Jeffery Lando has been experimenting with using artificial intelligence in his process, and in this film, AI was used to generate some of the hallucinatory images.
"The movie started as a way to explore new technologies in film and how they might be used to make movies in different ways; non-hierarchical, less 'top-down', more collaborative approaches," says filmmaker Jeffrey Lando. "I have had many psychedelic experiences which have been life-altering. I think fundamentally cinema can be a psychedelic life-altering experience."
On the film's blog (in an interview conducted by AI), Lando mentions that on a deeper level, the film explores the relationship between the would-be actress and her mother, a storyline that was revealed when Lando decided to take a more passive approach to his filmmaking. Lando hopes that audiences will take away a new perspective on their own lives after watching the film, as he did in creating it.
"I've heard it said that people feel like they've been on a real trip when the movie ends. I hope it succeeds at giving people a great time, entrancing them, and I hope that for some watching it helps them get inspired about their own lives. In my case at least, the movie we made is something I would never have attempted and I think bears profound (to me) insights that I was not capable of."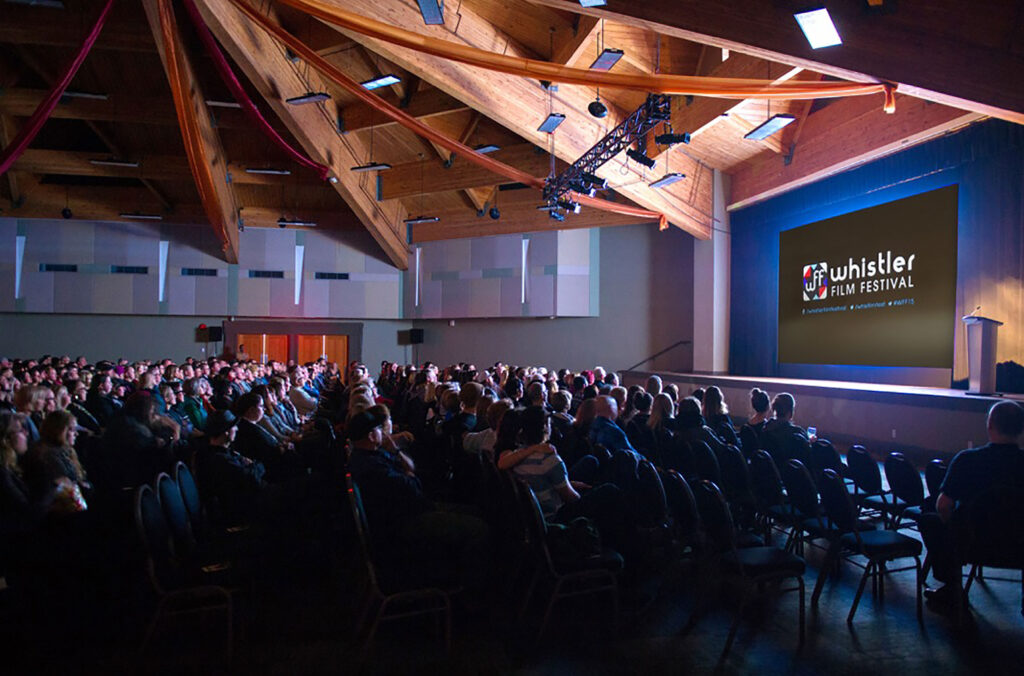 RE:U:NITE Gala Event
Get your ticket (or table) for the festival's annual fundraiser, the
RE:U:NITE Gala
on December 3, from 7 to 11:30 PM at the Whistler Conference Centre. Proceeds directly benefit the 80 Canadian artists and filmmakers participating in WFF's slate of talent programs.
"We're thrilled to finally be able to reunite in-person to celebrate the power of film and music at the Whistler Film Festival, and further support the Canadians artists and filmmakers participating in WFF's talent programs," says Shauna Hardy, Whistler Film Festival Society Founder and Board Member, and RE:U:NITE Co-Chair.
Guests are treated to an inspiring evening complete with an opening reception, three-course, curated culinary experience, and after party; with awards presentations, raffle and online silent auction, special guests and heartfelt moments showcasing WFF's impact. Vancouver's Man About Town, Fred Lee returns to host the event, which culminates in a live musical performance.
Last year's gala featured the Steven Page Trio and recognized George Stroumboulopoulos with the inaugural Founders Award
(he is featured in our header image alongside Tantoo Cardinal, with photo credit to Jon Thorpe),
so we have no doubt this gala will be just as special.
Get your ticket
before they go!
What To Do When You're Not Watching a Movie
Stretch Those Legs
After sitting still, enraptured in the latest release you might want to stretch it out on a winter walk. Depending on snowfall, you could try one of the routes suggested in our Walking in Whistler's Winter Wonderland blog, opt for a snowshoe or cross-country ski, ice skate in Olympic Plaza, or of course get a few ski laps on Whistler Blackcomb.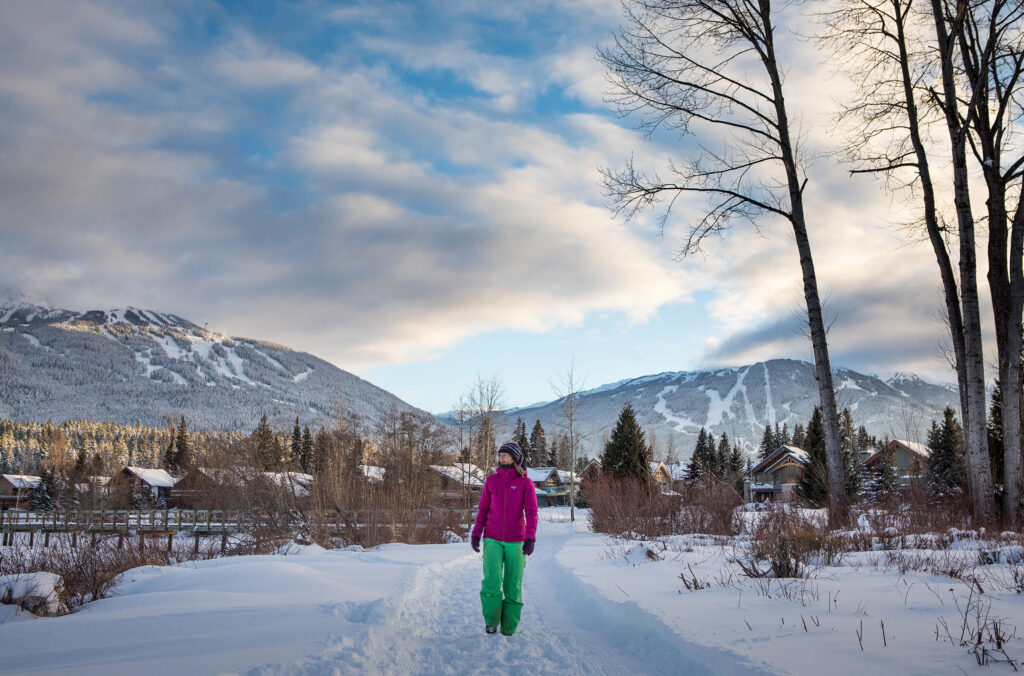 More Culture
Visit the Audain Art Museum and take in their permanent collection featuring works from BC artists like Emily Carr, as well as their current exhibition, Out of Control: The Concrete Art of Skateboarding. A trip to the Squamish Lil'wat Cultural Centre is always something we suggest, as it gives you the background on the Squamish and Lil'wat First Nations' connection to the land here in the Sea to Sky.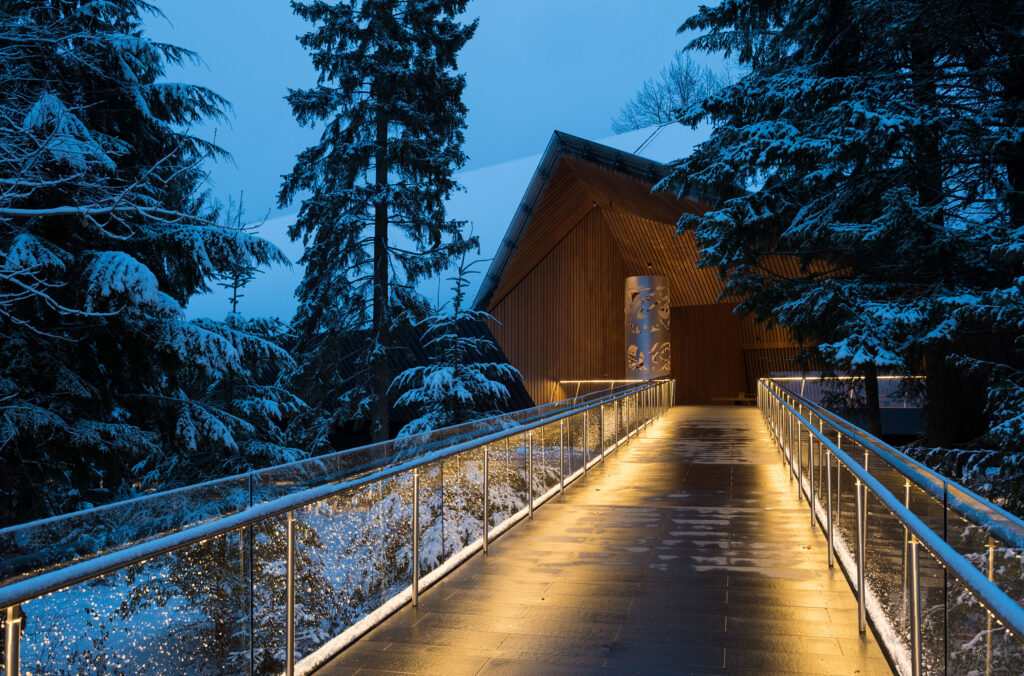 Relax
Another way to enjoy the mountains is to relax in them. Head to the Scandinave Spa for a few rounds of hydrotherapy and a soothing massage. Before the gala event, you could treat yourself to a body wrap, facial, manicure, or pedicure at one of Whistler's spas.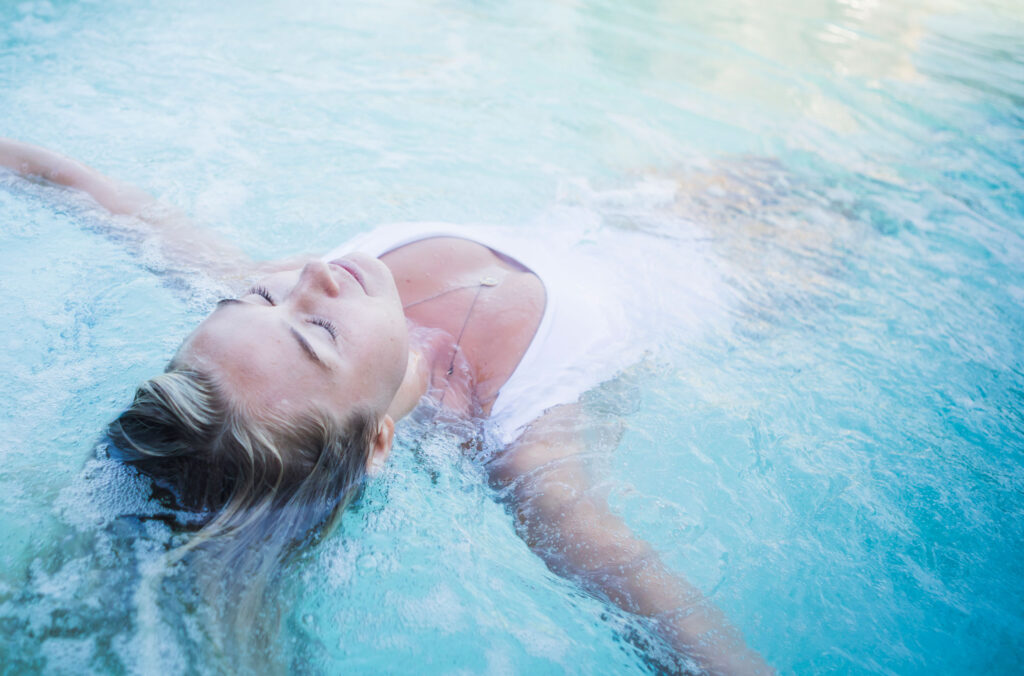 Dine
If you're heading out for dinner pre- or -post-movie, then you have a lot of options nearby the Whistler Conference Centre, the hub of the festival. For fine dining, there's Araxi, Bearfoot Bistro, Il Cammineto and the new, Wild Blue. And for a more relaxed vibe, there's Mexican Corner, Sushi Village, Stonesedge Kitchen and Earls.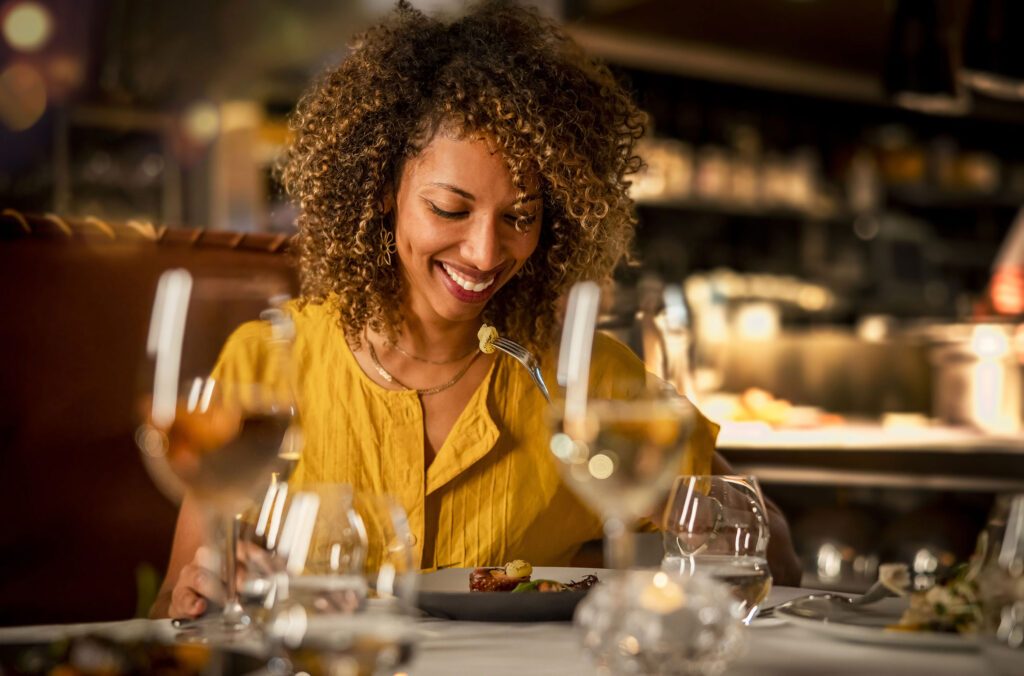 If you're looking for coffee or lunch in-between flicks then head to Gone Bakery or Moguls Coffee House. And for a casual place to compare movie notes, do that over a beer or glass of wine at The Beacon or Dubh Linn Gate. Take a look at our dining guide for more ideas.
INSIDER TIP:
Looking to balance the mountains and the movies? Make sure you
book accommodation
close to the Whistler Conference Centre in the heart of Whistler Village as that's where the action is taking place. Crystal Lodge, Sundial, Pan Pacific and Listel are all within a two-minute stroll.
If this post has you dreaming of Whistler, enter our Go Big This Winter Contest for a chance to win a trip.
Stay longer and save more with up to 30% on Whistler winter lodging with Whistler.com. For every third night you book between March 1 - April 30, 2023 receive a free $75 CAD Whistler Après Voucher. Enter promo code SPRING2023 when booking online or call 1.800.944.7853 and mention the offer to one of our Travel Consultants.
It's easy to book your vacation when you have the freedom of our Flexible Cancellation options backed by our Book With Confidence program.