Updated February 2022
Every New Year's Eve I get a serious case of resolution-itis. My goals always include an athletic challenge, so, without fail, I end up signing up for a local running race. Depending on the year, my ambition ranges from a realistic 5K fun run, to really swinging for the fence and signing up for a half-marathon. For me, the thought of the sufferfest the event would be without training is enough to keep me motivated to run all year.
Late summer and early fall are my favourite running seasons. The weather is cooler but still usually fair, the scenery is stunning as it shifts from lush greens to fiery oranges, and I get in shape before the ski season.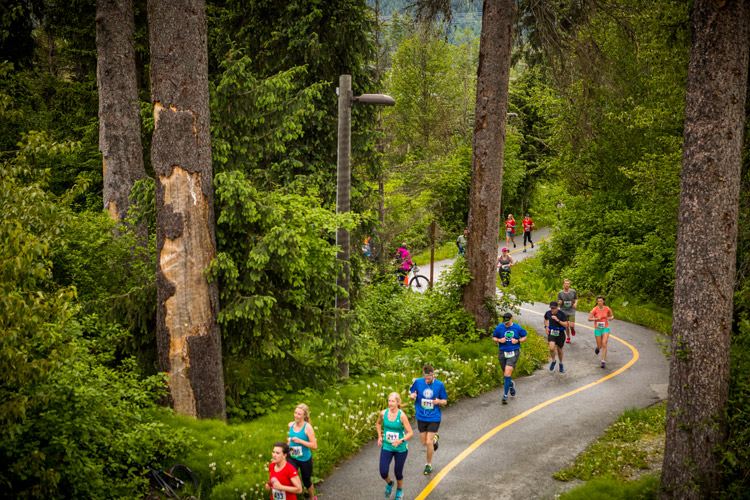 I've put together a list of some of my favourite local races so that you can challenge yourself, or just have fun out on Whistler's trails. Also, if like me you've been missing the Whistler music scene, I've included suggestions for local tunes to turn up the motivation. Because let's be honest, most of us could use all the help we can get!
Whistler Turkey Trot Presented By Smartwool
With all the indulgence of Thanksgiving, it can feel pretty darn good to peel yourself off the couch and do something physical. In a normal year, you can take part in the Smartwool Turkey Trot – a 5k Drumstick Dash, or 10k Gravy Burner fun run. We're not yet sure if the event is happening this year but, regardless, you can still lace up and sweat off that delicious turkey.
The route is super convenient from Whistler Village, with distances held within the winding trails of Lost Lake Park. You can bring the kids or grandparents along for the fun. The short distance, accessible location and smooth trails make this run a fantastic activity for the whole family.
Difficulty: Easy/Moderate. The difficulty highly depends upon how much you've stuffed yourself with turkey. Feel free to walk when needed.
Course: 5k and 10k loops of Lost Lake Park. The 5k route follows the wide gravel path around Lost Lake and is smooth enough for a wheelchair or stroller. You can see details of last year's route here.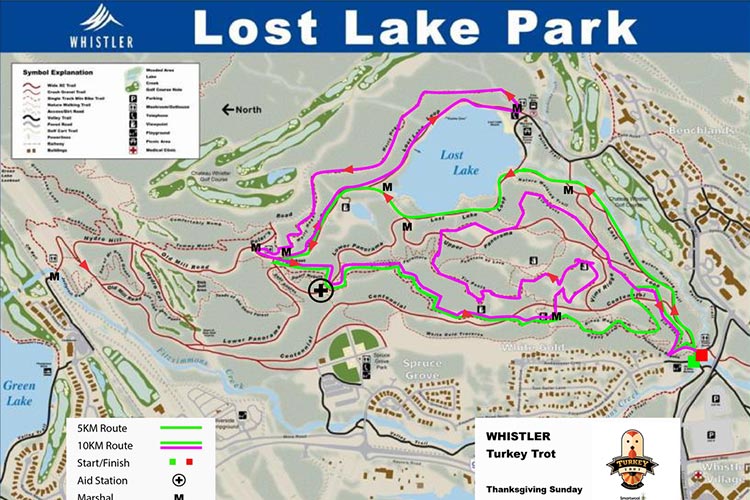 Tunes: Whistler's favourite performing artist/snowboard instructor, Kostaman always puts a smile on my dial. His reggae-inspired music is just what you need to keep you going as you trot that turkey off.
INSIDER TIP:
There's lots to do in Whistler on Thanksgiving weekend (both US and Canadian). You can stay up to date on what's happening in town
here
.
Terry Fox Run
Like most Canadians, I've been taking part in Terry Fox Runs since elementary school. Terry's goal was to run across Canada from coast to coast, raising money to support cancer research. Sadly, he didn't make it, but his lasting legacy is this incredible event.
Difficulty: Starting from Whistler Village head out and around Lost Lake. The course is both easy and accessible, so you can walk, run, wheel along with the whole family.
Course: The Whistler event is typically held on the trails of Lost Lake. See below for a route map so you can follow last year's course.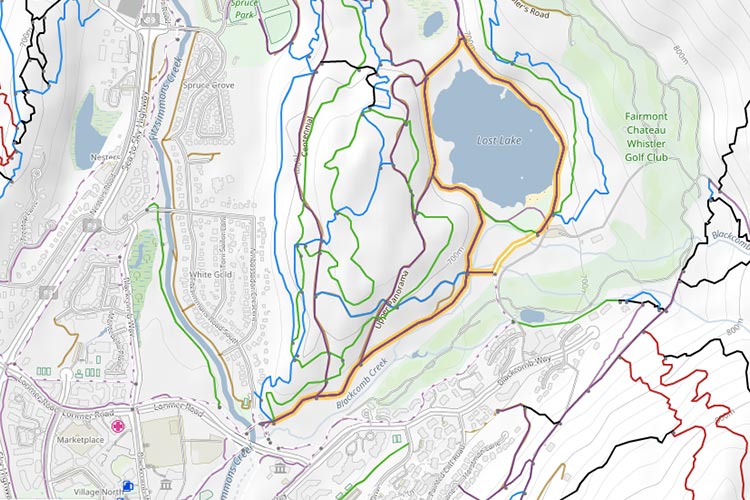 Tunes: Lacing up for a classic Canadian run calls for the downhome foot-stomping tunes of Ruckus Deluxe.  If you close your eyes you could almost imagine yourself at the Dubh Linn Gate Irish Pub at après.
Rotary Brandywine Boogie
Lush forests, emerald rivers, unique basalt rock formations – if you're into cool running routes, the Brandywine Boogie course is for you. Held on the double-track Sea to Sky Trail from Cheakamus Crossing to Brandywine Falls, you'll be rewarded with endless beautiful and surprising sights all the way along.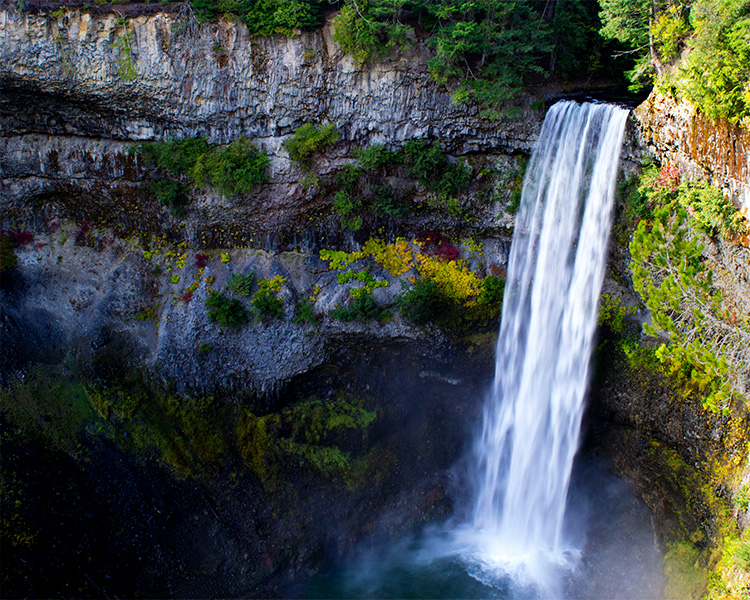 As a recreational, sometimes runner, I love this race because the 10k course is doable with minimal training and the views are interesting enough to distract me from my tired legs and puffing lungs. With the course ending at one of the most spectacular waterfalls around, your support crew will happily come to pick you up because they can sneak in a visit to Brandywine Falls at the finish line.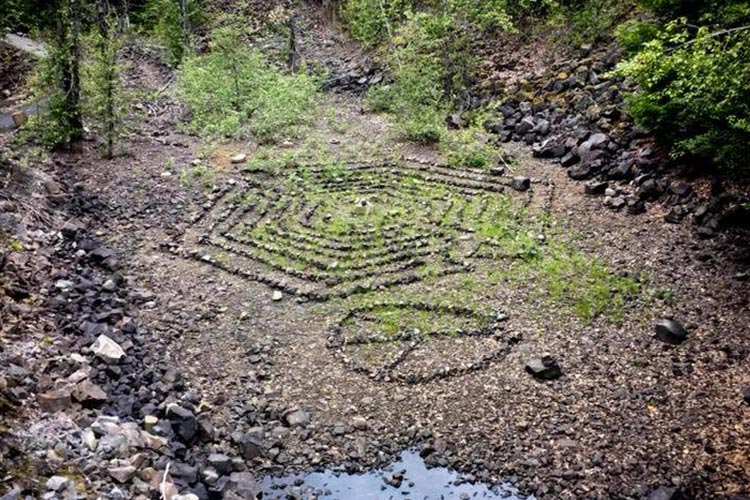 Difficulty: Moderate. For a trail run in a mountain town, the course is relatively flat with no major leg-burning hills.
Course: The course mainly follows the Sea to Sky Trail from Bayly Park in Cheakamus Crossing to Brandywine Falls. The route is well marked; just keep following the signs to Brandywine Falls.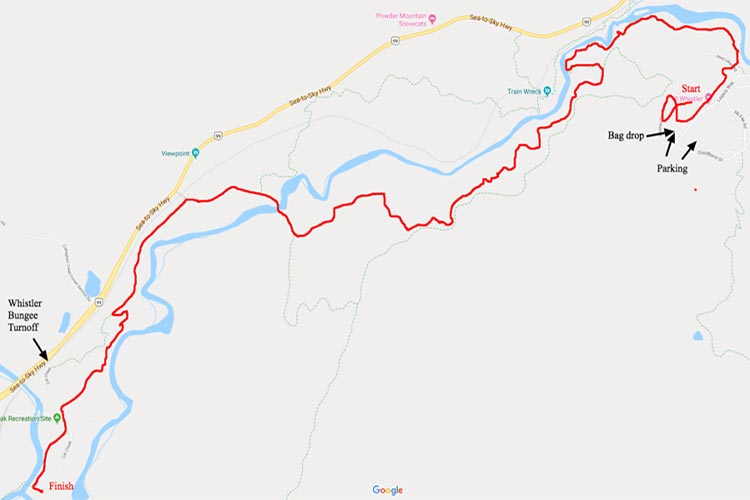 Tunes: It feels appropriate to do this run listening to music that makes you want to boogie. The unofficial kings of Whistler's après scene, the Hairfarmers, have the tunes to get a whole room up on their feet (and sometimes tables).
These are also the tunes you'll need to go the distance. After a day of skiing or riding, your legs may be shot, but the feel-good tunes they play at après make you forget your pain and dance all night. Just the type of motivation you need to get you to the finish line.
Whistler Half Marathon, Presented by Smartwool
With distances ranging from 5k to 30k, this event has a course for everyone.
I highly recommend following their course map for training or as a one-time challenge. They've plotted the course to highlight some of the best sights in town. You'll be guided past pristine lakes, lush forests and golf courses where you might even see a bear.
Difficulty: The course is relatively easy for the 5k and 10k distances, but you're going to want to commit to some serious training for the half marathon or 30k distances. There are a few leg-burner hills on the course that will hurt if you're not prepared.
Course: The courses vary widely by distance (5k, 10k, 21.1k and 30k). The shortest takes a loop around Lost Lake, while the longer distances are a veritable tour-de-Whistler, passing practically all the lakes and parks in town.
Tunes: If you can't party in the clubs, you can still sweat to the music you love. Case of the Mondays' beats will have you dancing away the distance.
Comfortably Numb
I can't say this race will make you comfortable, but you have a good chance at some numbness. If you're an experienced trail runner or a fan of Type 2 fun (miserable while it's happening, but fun in retrospect), Comfortably Numb is a good course for you to tackle.
Difficulty: Real talk, this is a tough one. I've only ever done this 25k route on my bike, and even that felt like it took ages. I only recommend tackling this challenge if you've been training for distance trail running.
Course: Start at Wedge parking lot, just off highway 99, and enjoy the gruelling ups and downs of the Comfortably Numb trail to Nicklaus North. The actual race finishes at Spruce Grove Park, but I think a lake finish is the best way to celebrate and cool off.
Tunes: This trail will take you through ancient landscapes. For a new perspective in keeping with your locale, try the traditional music of the Squamish and Lil'wat Nations. The Squamish Lil'wat Cultural Centre (SLCC) has a Spotify playlist of the SLCC Ambassadors singing traditional songs from both nations. I listened to it on a walk through the woods and it seriously gave me chills.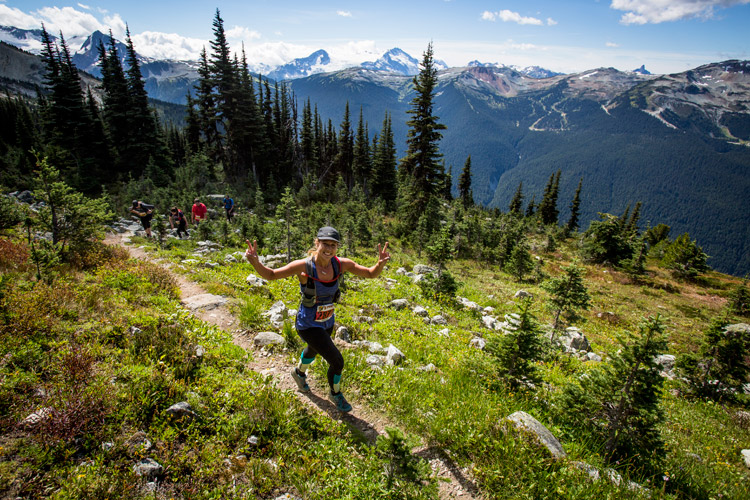 No matter what kind of running adventure you embark on, let someone know where you're going, have the right gear and pack out what you pack in. The weather in the mountains in late summer and fall can change quickly, so having layers, water and food is always a good call. If you're going into Whistler's more remote areas, be sure to read up on the wildlife you might be sharing the trail with.