Whistler really comes into its own in the festive season with twinkly lights, fresh snow, mountain views and cozy fireplaces, and it lasts all month long. However, there's only one night that rings in the New Year, so here's how to celebrate on December 31 in Whistler.
Celebrating with Kids and Teens
In the spirit of out-with-the-old-in-with-the-new, the Resort Municipality of Whistler (RMOW) has shaken up their New Year's Eve plans this year to ensure that there's plenty to do for early birds – and, fantastically, it's all free. The celebrations kick off with outdoor Family Après at Whistler Olympic Plaza from noon until 6 PM. The Après features live music, face painting, hula hooping, characters in costume, games, dancing, treats, and hot drinks.
New Year's Eve Family Après is an expansion of the weekly Family Après, which happens on Monday and Wednesday afternoons from 3 – 6 PM (I recommend you visit a few of those too this winter – they switch up the entertainment each week).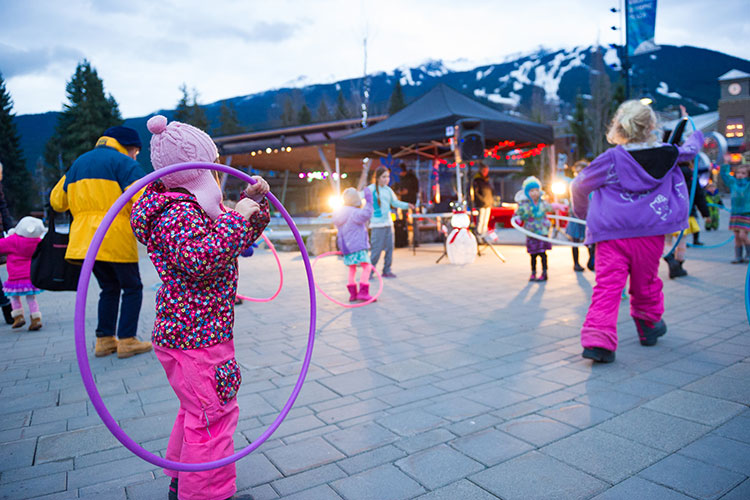 Getting chilly? The Whistler Holiday Experience is indoors at the Whistler Conference Centre from noon to 7 PM on December 31. There will be bouncy castles, mini putt golf, table games, crafts and video games, as well as a lounge area for parents to relax with a coffee – you'll need one because the fun is just starting.
Head to Skier's Plaza at the base of Whistler Mountain at 7:30 PM for the High-Flying Snow Show, a demonstration by Whistler's up-and-coming ski and snowboard athletes (and a new event for this year). After this is an early countdown, with fireworks at 8 PM, perfect for getting sleepyheads into bed on time.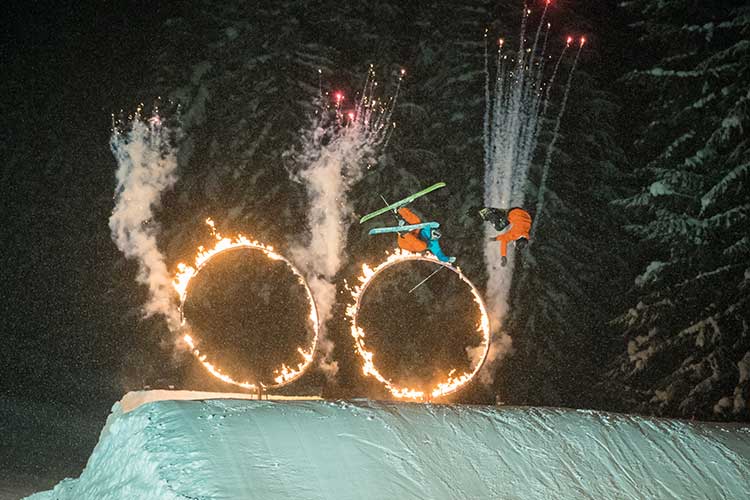 To ring in 2019 at midnight, a special edition Fire & Ice Show (think athletes flipping through rings of fire, fire spinners and a DJ) is at 11:30 PM at Skier's Plaza. You might have seen the Fire & Ice Show that runs each Sunday during the winter season (December 23 – March 25), this edition will have an additional flaming ring, extra pyrotechnics and more athletes a-leaping (I'm trying to resist typing "…and a partridge in a pear tree"). It will be followed by a countdown and grand finale fireworks at midnight.
Celebrating with Dinner
Whistler's exceptional culinary scene has pulled out all the (wine) stops. Get your reservations in early, because Whistler is buzzing at New Year's. Here are some of your options: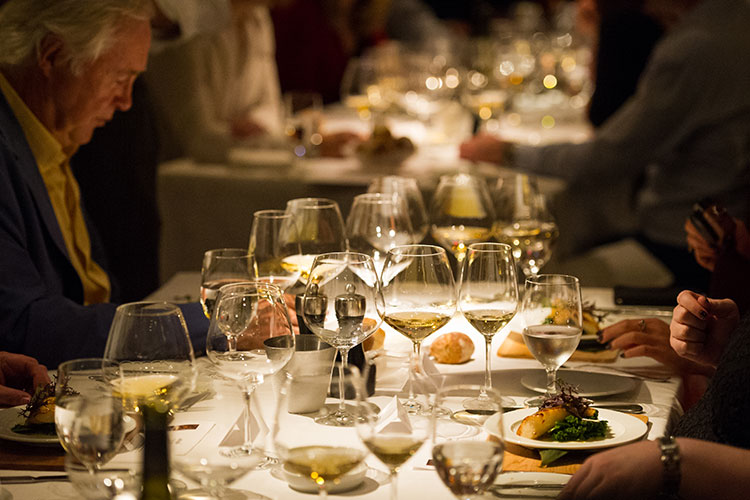 Basalt Wine & Salumeria offers a four-course Chef's celebratory menu that begins with an amuse-bouche (so really five courses). There are early seatings (between 5:30 and 6:45 PM) and late seatings (between 8 and 9:30 PM) for $120 per person. The eatery is known for its contemporary food, modern vibe and fantastic charcuterie.
Renowned Araxi Restaurant + Oyster Bar has a delicious farm-to-table menu and is known for its incredible wine cellar. The early seating at 5 PM has a three-course menu for $109 per person or a four-course menu for $159 per person. The seating at 8:15 PM is $199 per person for the four-course menu and $289 for their five-course. You can also add Northern Divine caviar, from sustainably-farmed local sturgeon.
Feel like heading to a ball? The Fairmont Chateau Whistler is throwing their New Year's Eve Gala with a black and gold themed dinner and dance. The live tunes will include ABBA, Adele, AC/DC and Michael Bublé from the Famous Players Band. The evening begins at 8:30 PM and tickets are $199.
Aura Restaurant, at the stunning Nita Lake Lodge, has a gorgeous view overlooking a good skating lake. Ring in the New Year with an 11-course meal (that includes tuna poke, oysters and apple-brined pheasant) and wine pairings (many are BC wines) for $299 per person. Vegetarian or vegan? They've got you covered.
Il Caminetto offers contemporary Italian food with regional ingredients from Executive Chef James Walt, who has been inducted into the British Columbia Restaurant Association Hall of Fame. The early seating at 5 PM has three courses for $109 per person and the late seating at 8:30 PM has four courses for $199 per person. Or, their four-course Gala prix fixe menu is $249 per person.
The Grill and Vine, inside the Westin Resort & Spa Whistler, is known for its fresh seafood and meats, and offers a four-course menu for $139 and seatings from 5 PM onwards. Children can also indulge with a three-course dinner for $45.
For more dining options and events as they're released, visit this page on Whistler.com.
Celebrating with a Party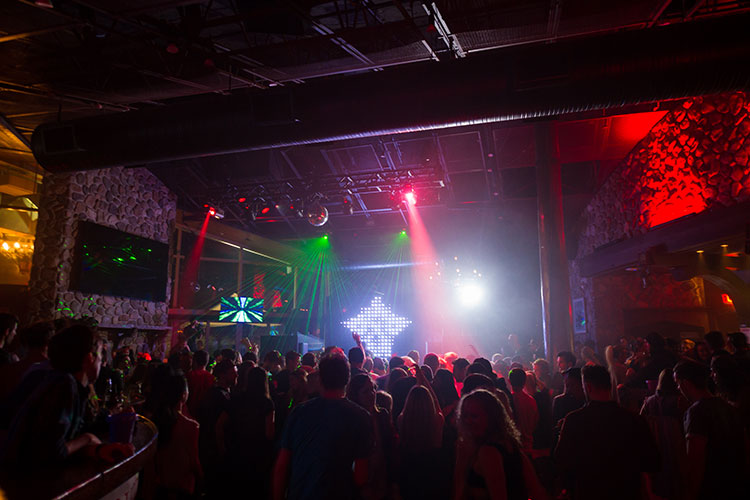 If you want to party at a mountain resort, you've come to the right place on the right day. Whistler is world famous for what happens after dark and, as the locals say, underground (since most of the nightclubbing happens below street level).
Tour the town with Bar Hop Whistler, starting at the Longhorn Saloon & Grill at 8 PM and visiting Buffalo Bills, Maxx Fish and Garfinkel's. Included in your ticket price is express entry, five drinks, pizza, merch giveaways and party hosts. Tickets are $130.
Maxx Fish opens for UNCORKED! with DJs Fidel Cashflow and Dre Morel at 9 PM. The music will be dance, hip hop and Top 40. After the midnight bubbles flow, there'll be a buffet, and a professional photographer will snap photos of you and your crew. Tickets start at $35.
Buffalo Bills Bar & Grill ("Bills" for short) is throwing a Masquerade Ball with a champagne toast and midnight snowfall. Masks are provided, but bring your own if you want! Tickets are $50.
Garfinkel's has a Hollywood Nights party this year with DJ Chainwax playing Top 40, club hits, and remixes. Early bird tickets start at $65 with a platinum pass for $250.
Moe Joe's Nightclub hasn't announced their New Year's Eve plans yet, but there'll be a party. Fun fact: Prime Minister Trudeau was a bouncer at the nightclub formerly occupying the Moe Joe's space.
The Garibaldi Lift Company (better known as The GLC) at the base of Whistler, kicks off GLC New Year's Eve 2019 Presented by CIROC Vodka at 10 PM. Tickets are $75 each, or $65 for groups of more than eight.
The Longhorn Saloon & Grill's annual New Year's Eve Extravaganza has a winter wonderland theme this year (so find your smartest white outfit). Also, their heated patio is ground zero for drinking bubbles while watching the Fire & Ice and for seeing the fireworks at midnight. Tickets are $100.
Insider Tip: British Columbia doesn't allow drinking on the streets or in parks, so have your festive tipple at one of Whistler's many licensed bars, restaurants and nightclubs. Also, public transit is free from 6 PM until 4 AM, so take advantage of it and jump on the bus.
Celebrating Mountain-Style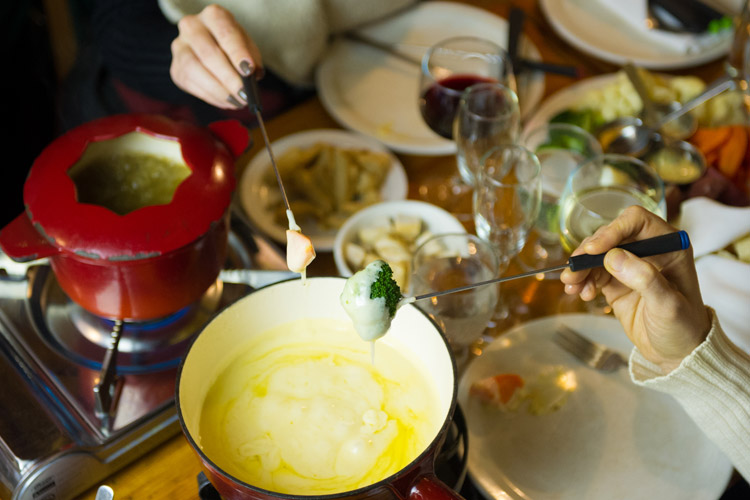 For something unique, Canadian Wilderness Adventures has fondue at The Crystal Hut high on Blackcomb Mountain overlooking the Village and valley. You travel by snowmobile or snowcat up the mountain, then are treated to cheese fondue, followed by fondue chinoise, dessert, live entertainment and a countdown, with a fireworks display for the second seating. The first seating departs at 4 PM, and starts at $209 per person by snowcat or $229 per person when doubling on a snowmobile. The second seating departs at 8:30 PM and is $329 per person by snowcat or snowmobile.
Insider Tip: Snow in the forecast? If you're wrapping up your celebrating early, set your alarm and head up the mountains because New Year's Day morning is a calm oasis of powder turns, while the rest of the world sleeps in. Now that's a great way to start the new year!
Whistler really makes New Year's Eve special, but make sure you reserve in advance because blink and it's booked up. Check Whistler.com for the full range of options and to book. See Megan Wilson's blog on How to Get Your Festive Spirit on in Whistler for more activity ideas.  From all of us at the Whistler Insider, have a Happy New Year!