PHOTO Andrew Bradley
Perhaps it's an offshoot of the general freedom involved, or the financial investment hinging on personal preference, but mountain bikers like to debate about their gear.
It doesn't take many après beers on the patio to start a heated conversation on hardtail vs full suspension, or what is the ultimate wheel size. But there is a growing contingent of core local riders who are putting both topics to rest with one bike and swearing that a hardtail 29'er is the single bike you need to go up, and down, any of the world class trails in the area.
"Real cyclists get it," says Andrew Bradley, a longtime Whistler resident who's been riding mountain bikes since 1989. "There is a sense of poetry to riding a hardtail 29'er. It's the beauty of simplicity, and it's the perfect bike for around here…but it has to have a steel frame, and it has to be made by Chromag."
Established by Ian Ritz in 2002, Chromag is Whistler's only mountain bike manufacturer and is known around world for making the top-quality bars, stems, pedals and saddles. They also make much coveted, custom painted hardtails, in a variety of wheel sizes. "At the end of the day there are so many different kinds of bikes you can ride," says Ritz. "And they all work."


PHOTO Andrew Bradley
But the argument has definitely been made that a Chromag 29'er is the ultimate Whistler "Quiver Killer." And here are 5 Reasons Why:
Steel is Real
Chromag only makes hardtail frames, and they make them out of steel. "It's not the lightest but it's the best feeling," says Chromag international sales wizard Julian Hine. "Steel is much more forgiving than aluminum or carbon, plus you can repair or weld it anywhere in the world."
Drawing comparisons to the sweet spot of a finely tuned guitar or the precision and strength of a Hatori Hanzo samurai sword, Chromag riders have their own motto, "Steel is real."
Frame Geometry
One theory is that bigger tires have a longer contact patch and can go harder into the corners without 'stuffing' due to the reduced angle of resistance. Another is that Chromag frame design has produced some subtle but revolutionary changes to the ride: a slack head tube angle to accommodate a front fork with big tires, a slight bend in the seat tube to allow for shorter chainstays (and better ascents), and a lower bottom bracket adds stability to descents.
"The naysayers will claim 29ers don't corner as well," says Bradley who rides a Chromag Surface 29". "But my bike corners better because the bottom bracket is lower than the centre of the wheels. It's a low centre of gravity so it's more stable going through chunder at high speed. They've nailed the angles of the bike to ride aggressive trails."
The science behind that low centre of gravity may not be absolutely proven but there is no doubt Chromag are on the cutting edge of frame design. "We like simplicity but we also like to fine tune things," Hine says.

You Can't Argue with Physics: Part 1– Angle of Attack
A larger wheel diameter will roll over obstacles at a lower angle than a small one (see figure 1). This makes for less resistance on every rock, root and bump the bike hits. It's a small difference but with less resistance over every bump over the entire length of a trail, or an entire day, it all adds up.
You Can't Argue with Physics: Part 2– Contact Force
Contact force is the force that acts at the point of contact between two objects. Having a larger diameter wheel means, at any given time, more of that wheel is in contact with the ground. More rubber touching the rock gives you more traction whether you are going down or up.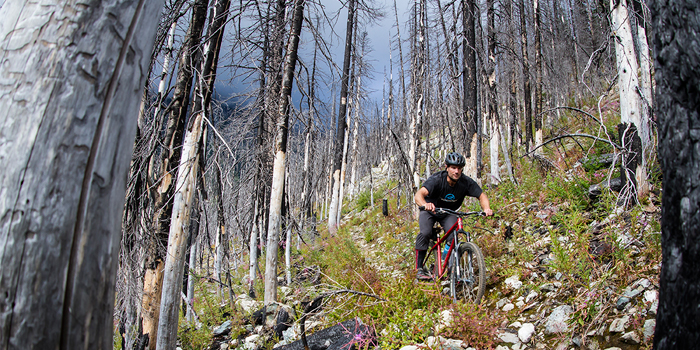 PHOTO Andrew Bradley
Made Locally. By Legends
Although Chromag also offers frames welded overseas to their exact specs, each year they make a limited number of 29" frames hand welded in BC by either Mike Truelove or Chris Dekerf–both living legends with indisputable industry pedigree who will only make a few dozen bikes each year.
It also makes sense that bikes conceived, designed, tested and created on the trails of Whistler, Squamish, The North Shore, Pemberton and the Chilcotins will perform as well as anything on that same terrain. Chromag's weekly Friday rides are the stuff legends are made of and just as you go to France to try the best French food, it makes sense that the perfect Whistler bike is the one designed, built, and tested in Whistler.
One Bike to Rule Them All
Big wheels have been around a long time (bike pioneer Geoff Apps' company offered a 29'er in their 1981 catalogue) and no one is saying evolving bike technology is a bad thing. Front suspension, disc brakes and tubeless tires have changed the game no matter what size wheel you prefer.
But there are riders out there, maybe they're considered purists, who are perfectly content to take a simple, sturdy hardtail with big wheels and tackle whatever the Coast Mountains has to offer.
"Rear suspension isn't as necessary as people think," Bradley says. "The only real benefits are for downhillers who are really pinning it and speed is all that matters. I like to feel my rear wheel connected to the trail. It's all about the flow and the ride. It should feel like a journey."


PHOTO Andrew Bradley
Learn more about Chromag, or order a bike, at chromagbikes.com and find out everything else you need to know about biking in Whistler at Whistler.com