The Squamish Lil'wat Cultural Centre: Stories and Sharing
The old saying is that the stomach is the way to a person's heart but it's also true that food is an incredibly accessible way into a new culture. With that in mind the best kept secret of Whistler's Squamish Lil'wat Cultural Centre (SLCC) is The Thunderbird Café. Featuring a small but tasty traditional menu, the Café is an excellent lunch and also an easily devoured introduction into the local First Nations history and culture. And where else can you get a Bannock Taco with Venison Chili?

Left: The famous Bannock Taco, photo courtesy of the SLCC. Right: BLAKE JORGENSON/DESTINATION BC PHOTO
The SLCC opened in 2008 as way to preserve local First Nations cultures and share them with the world. After shining as a local highlight of the 2010 Winter Games the centre has become both an institution of learning and a gathering place for local arts, yoga, environmental and other special interest groups.
But it is primarily a place of learning and sharing— admission to the Centre includes a welcome song and guided tour with trained ambassadors from the local nations as well as a 15 minute film and a chance to get hands on and try some traditional crafts. There's also a cultural interpretive forest walk, a chance to check out traditional long house and pit house replicas, and a museum gallery which currently hosts a new traveling exhibit from the Legacy of Hope foundation called "Where are the Children? Healing the Legacy of Residential Schools."

Left: BLAKE JORGENSON/DESTINATION BC PHOTO Right: SLCC PHOTO
The exhibit is anchored by a collection of photographs showcasing life of young indigenous children in Canada's residential schools. From the 1840s-1969 the Canadian government and most of the country's Christian churches implemented a system of "industrial schools" designed to help First Nation, Metis and Inuit children acclimatize and learn skills that would help them in the new world.
Attendance at the church-run schools was compulsory and in many cases children were removed from their communities and families and forbidden to speak their traditional languages. Over the years more and more stories of abuse, neglect and mistreatment began to emerge until the schools were eventually closed by the Canadian government in the 1960s.

"We didn't want to focus only on the negative impacts," says SLCC Junior Curator Alison Pascal of the Lil'wat Nation. Alison curated a local Squamish Lil'wat component to accompany the photographic exhibit. "We decided to focus on one local school, St Paul's in North Vancouver and we highlighted the music and athletic programs. Boxing and Tumbling were very popular and the Buckskin Gloves Boxing Tournament is a tradition that survived the school system and is happening in different BC communities today."
While the history of residential schools in Canada is certain not a cheery topic the Where are the Children? exhibit has been specifically designed more to start conversations and promote public awareness than to overwhelm an audience or harsh their mellow.

"It is a difficult balance because we do want to address the negative impacts of residential schools," Alison says. "Those impacts are spread throughout Canada. At the same time we want to expand the exhibit to put more focus on our local nations and communities. And we want to be here for people who have questions or would like more information."
Whether you are a resident or a guest it's always good to learn the history of an area to help ensure the mistakes of the past remain in the past and we realize that every culture has it's own rich history and tradition that should be embraced, protected and collaborated with. Venues like the SLCC and exhibits like Where are the Children? play an integral role in spreading the ever-valuable messages of empathy, connection and humanity.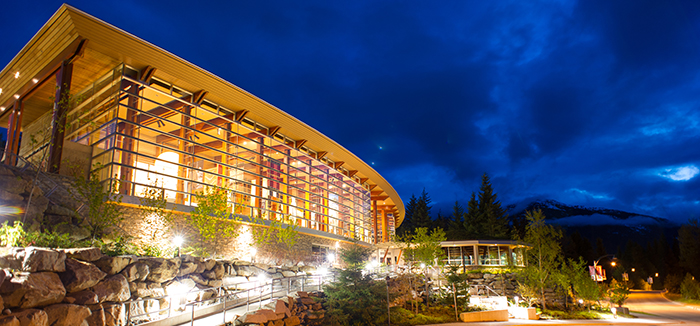 The travelling photography exhibit, with photos pulled mainly from the Canadian Museum of Civilization, the Library and Archives of Canada as well as numerous church collections, will stay at the SLCC until October 15, 2016. There is much more to the SLCC than this single exhibit and the entire Sea to Sky corridor is rich with First Nations culture – Check out this map for more information.