It's feeling a lot like spring in Whistler right now but Old Man Winter likely has a bit more fight in him yet and this weekend, March 12-15, 2015, Whistler plays host to some big time winter sports action and excitement both on the ski hills and at the Whistler Sliding Centre.
First up: Saturday March 14, 2015 marks the 18th Annual Showcase Showdown up in the Blackcomb terrain park. As the longest-running snowboard competition in Canada, The Showdown doesn't always get the recognition it deserves but for almost two decades it's been both and incubator and high-water mark for local talent.
"It's the best local contest of the year and it always has been," says Rob Picard, director of the Whistler Valley Snowboard Club (WVSC). Over the years many WVSC members have competed, and shone, at the Showcase Showdown and the addition of a Junior Rail Jam this year gives younger club members a chance to compete as well. "The younger kids are excited this year," Rob says. "Keep an eye on the Grom Nation crew."
While the contest format has changed and evolved over the years the main event this Saturday is a standard Big Air with Whistler's finest local shredders competing against riders from all over BC, Alberta and beyond. "Mainly it's about having fun," Picard says. "Vans will be giving out waffles, there is an unofficial rail jam with a prize for best trick, it's gonna be amazing. This contest has been around so long because it's always a great time and fun to watch."

All Showcase Showdown events take place in the Blackcomb Terrain Park Saturday March 14, 2015 with the Junior Rail Jam starting at 10 AM and the Big Air contest kicking off at 1 PM. Spectators are welcome and anyone looking to compete had best get more info here.
The other big events of the weekend take place at the Whistler Sliding Centre on one of the fastest ice tracks in the world. March 11-12, 2015 sees the Canadian Junior Championships for Luge, featuring the best athletes under 20 years of age (including a couple Sea to Sky locals!). Training takes place on Wednesday and the championship race is Thursday March 12, 2015 from 1:30 to 3:30 PM.
After the nationals, BC luge athletes aged 7-18 will train on Friday and race in the BC Championships on Saturday March 14, from 5:30-7:30 PM and then on Sunday March 15th the BC Bobsleigh and Skeleton Championships take place for athletes aged 16 and up.

Check out the Sliding Centre's event calendar for more details on the races. Spectators are welcome and if the sight of all that speed and velocity sparks something the Sliding Centre's public bobsleigh and skeleton program runs until April 12, 2015. Nothing like hitting 100 KM/hour face first down an icy chute to kickstart the spirit of winter.
For the less gravity inclined, celebrity chef Vikram Vij is also in town this weekend for a public tasting event in the Roundhouse Lodge atop Whistler Mountain. Vij's famous curries have been offered in both the Roundhouse Lodge and Wizard Grill all winter but this public tasting gives you a chance to sample the wares and meet the man behind the flavours. Vij will be there from 11 AM-1:30 PM on Saturday March 14, 2015.
Combined with good skiing and riding high up and all the usual dining, shopping, spa and other activities in the valley it's safe to say Whistler has a little more winter fun left in us yet. See you up there (The weatherman is calling for snow in the alpine too, yee haw.)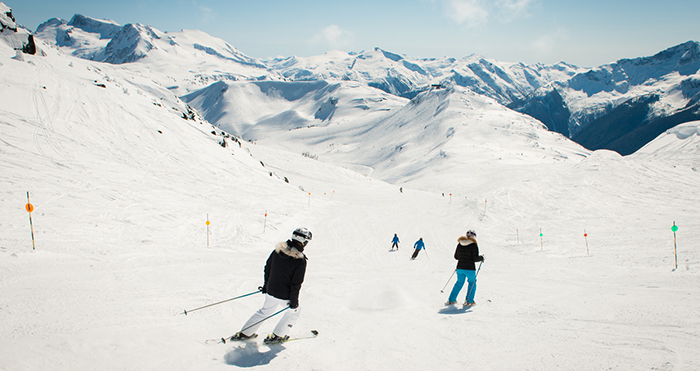 As always, find everything you need to know about Whistler at Whistler.com