There's no place like home and when your home is Whistler that makes it even better.
With consistent snowfall, a massive backcountry, two world-class ski hills and a Village that's essentially the epicentre of Canadian snow sports it's no surprise that many of the world's top snowboarders are drawn here, or that so many of them stick around.
All photos courtesy Justin L'Heureux/K2
Last winter the folks at K2 Snowboards decided to shack up in Whistler for a couple of months to shoot a web series highlighting their team athletes riding everything from the perfect snowy wilderness of the Whistler backcountry to the painstakingly manicured features of the Blackcomb terrain parks. After it was all said and done K2 had a nifty looking web-series called Seek and Enjoy and episode two – Process– drops today (watch it above!).
To get a little back story on what it's really like making snowboard videos in Whistler, The Insider hooked up with Whistler-based and longtime K2 team member Leanne Pelosi to talk about life in Whistler and the process behind making it as a professional rider.

Whistler Insider: Hi Leanne. You've been snowboarding for over 15 years now. How long have you lived in Whistler?
Leanne: Almost 11 years. I was coming up in the summers before that but I moved here more permanently when I started shifting from park riding into the backcountry and I love that because it is a little nicer on the joints.
Insider: You say "more permanently" because a lot of being a pro rider is traveling around right? Chasing the snow?
Leanne: Totally. But if it is good in Whistler I try not to leave. We have the best terrain here, my favourite in the world. If the conditions are right we have to pack up and leave but I almost have a problem leaving here because I am so obsessed with how good it is.
Insider: A lot of people don't realize how much work it is to get the epic photos or film a good video part.

Leanne: It's hard to explain what our job entails but yes, it is a process. It's not just shredding around from January to May. It means you go up every day. Even if it is raining in the valley you go anyhow. I've put a garbage bag over my jacket and sledded up into the backcountry looking for a clear spot. You can find it too, the terrain is so huge here it is rarely the same weather everywhere. You need to go up every day, you need to have mountaineering skills and it takes so long to snowmobile out to certain spots but you have to go out if you want to produce results and do this as a job. Sometimes we'll spend ¾ of our day not strapped into the boards but when we do it is always super high-quality riding. I'm always pumped to have quality over quantity.
Insider: How nice is it to finish a day out filming out in the backcountry and come home to your own hometown, to the Whistler community?
Leanne: It's awesome. There are so many talented people here, and not just snowboarders. It's cool running into all the great artists and musicians and just amazing people doing their own things. We have everything here, I love being able to go to the Scandinave Spa or to dip into the Village for a nice meal.
Insider: How was it having the K2 crew in town for so long, did you get to show off your backyard a bit?
Leanne: I always love taking people out snowmobiling in the Whistler backcountry for the first time because it is so vast and it's great to see their reactions. I took Gretchen (Bleiler) out and her jaw was just wide open the whole time. Danny Larsen came out from Norway and it's really fun to just incorporate everyone into the crew.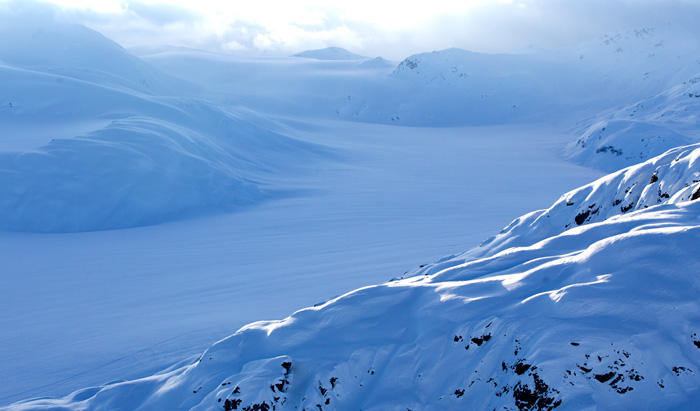 Insider: What do you like about webisodes like these?
Leanne: It's cool to see the storylines behind things and have companies putting out lifestyle-based edits too. It shows more of being out there in the mountains and it's a way to share our rad experiences and lifestyle. I love seeing the official full film parts in the big movies but it's nice to see the stories behind the riding too. It's win-win.
For more of Leanne check out her 2012 video edit below and keep an eye out for future installments of K2's Seek and Enjoy. And why not enter the K2 Seek and Enjoy Contest for a shot at winning a free trip to Whistler. And while you're at it you may as well enter the Picture Perfect Whistler Contest for another chance at a trip to Whistler with a free camera and a bunch of killer activities thrown in. Good Luck.