Editor's Note: These are the 12 days of Christmas, Whistler Style so strap in and get ready for a week and a half of snow, excitement, twinkling lights, good times, great food and fantastic winter enjoyment. No Partridges, no pear trees (although there may be some tree skiing.) Happy Holidays.
The day before Christmas can be hectic as procrastinators and the unprepared rush to and fro attempting to squeeze in an entire holiday season's worth of last-minute shopping. Luckily, most everything in Whistler Village is within walking distance of each other so that makes for a much more civilized (and scenic) day of running around.

With more than 200 shops in the Village last minute gift-givers have options on everything from shiny jewelry to vinyl records to ice axes to toques. And while there's nothing wrong with shopping till you're dropping, Whistler is also about having fun and appreciating the finer things in life so don't forget to throw a few snowballs around, check out the free skating rink, or partake in a fine meal at one of Whistler's many world-class dining establishments.
Araxi restaurant is world-renowned for their fine wine, inviting atmosphere and a delicious locally sourced menu. While their nighttime reservations are booking fast, Araxi offers an incredible Après Ski Fondue everyday from 3-6 PM. Ski towns and fondue go together like chocolate and cheese and Araxi's central location in Whistler's Village Square make it the perfect spot for a pit stop.

The main event for Day 11 is the 29th Annual Christmas Eve Carol Service, an interdenominational celebration of traditional carols and choral music. Going strong for almost three decades, this is an evening of good times and sweet sounds, and the overall message is peace and goodwill to all. Hosted by the Whistler Children's Chorus, the Christmas Eve Carol Service takes place at the Westin Resort and Spa from 6:30-7:30 PM and admission is by donation.
Just one more sleep until Christmas, Snow ho ho.
Last-Minute Gift #1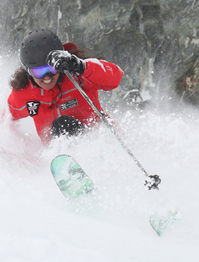 Christmas Eve is about as last-minute as it gets so you may as well go big and give the gift of ripping with a gift certificate from Extremely Canadian. A Steeps Clinic or Backcountry Adventure from some of Whistler's most trusted and experienced guides is a sure way to elevate anyone's skillset on the mountain, and it's a whole whack of fun. The Extremely Canadian team know all the greatest and snowiest zones in the area and they're not afraid to share a few insider secrets. Plus, they're skilled instructors and can get you ripping stuff you'd normally turn away from. Get your certificate online or call 1-800-938-9656. This gift is a guaranteed winner and a sure way to make that last-minute shopping less stressful.